Global Fund for Children strives to create lasting change for children and youth worldwide. The annual Maya Ajmera Sustainability Award – named in honor of our founder – is a testament to this goal, recognizing our partners' accomplishments while providing an investment in their long-term stability.
About Maya Ajmera
Maya Ajmera founded Global Fund for Children in 1993, when she was just 25 years old, after experiencing a "moment of obligation" on a train platform in India. Under Maya's 17 years of leadership (1993-2011), GFC grew from a seedling vision into one of the largest networks of community-based organizations working on behalf of children and youth worldwide.
Maya's radical vision to support small, local organizations with flexible funds – thereby improving the lives of children and youth in marginalized communities around the world – continues to drive GFC's work today.
About the awards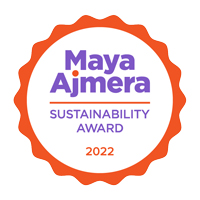 Under Maya's leadership, GFC first pioneered the Sustainability Awards in 2005, providing a special infusion of funds to outstanding partners at a critical stage of their development. This award was renamed the Maya Ajmera Sustainability Award in 2011, honoring Maya's years of service to GFC.
More than 160 organizations have received the award since its establishment in 2005. Our programs team determines a pool of nominees each year; winners are then chosen by alumni winners and members of GFC's Youth Leadership Council through a participatory selection process.
Some Sustainability Award winners have achieved exceptional success in organizational development; many have attained regional and national influence and recognition in the field of children's rights; others have demonstrated a deep commitment to learning and leadership throughout their GFC partnership.
With support from GFC, each winner determines how to apply the award funds toward its sustainability – whether that means establishing a reserve fund, investing in human resources, or implementing creative revenue generation activities.
In a 2018 impact assessment of the award, which surveyed alumni winners, 98% of respondents found the award very or extremely helpful to their development.
About the 2022 winners
Global Fund for Children is thrilled to announce the 2022 Maya Ajmera Sustainability Award winners: Achievers Ghana and Organization for Youth Empowerment.
Achievers Ghana runs a holistic education program for girls in low-income neighborhoods who are at risk of or have experienced child marriage. The organization, based in Accra, Ghana, uses a participatory approach and strong community outreach activities to advocate for girls' protection and education.
Achievers Ghana plans to use the Sustainability Award to support administrative, operational, and staff capacity development costs. The funds will go toward the cost of keeping the office open, providing additional staff development to help staff grow professionally, and covering travel expenses to help staff and volunteers travel to rural communities to reach more girls.
Organization for Youth Empowerment (OYE) in El Progreso, Honduras, builds socially conscious youth leaders and encourages high academic achievement through a competitive scholarship program and community engagement projects that include public art, video production, and graphic design.
OYE plans to use the award to carry out an impact study of its scholarship program, which has supported more than 450 young people, and to strengthen its new revenue generation initiative, a graphic design and production studio.
Learn more