Global Fund for Children Newsletter
Global Fund for Children supporters stay connected to the cause of children's rights through our monthly newsletter, Grassroots Review. Each issue highlights dynamic work empowering children and youth through local partnerships and capacity development.
Through Grassroots Review, you'll get news fresh from the field and stories of extraordinary heroes who are making lasting change locally and globally.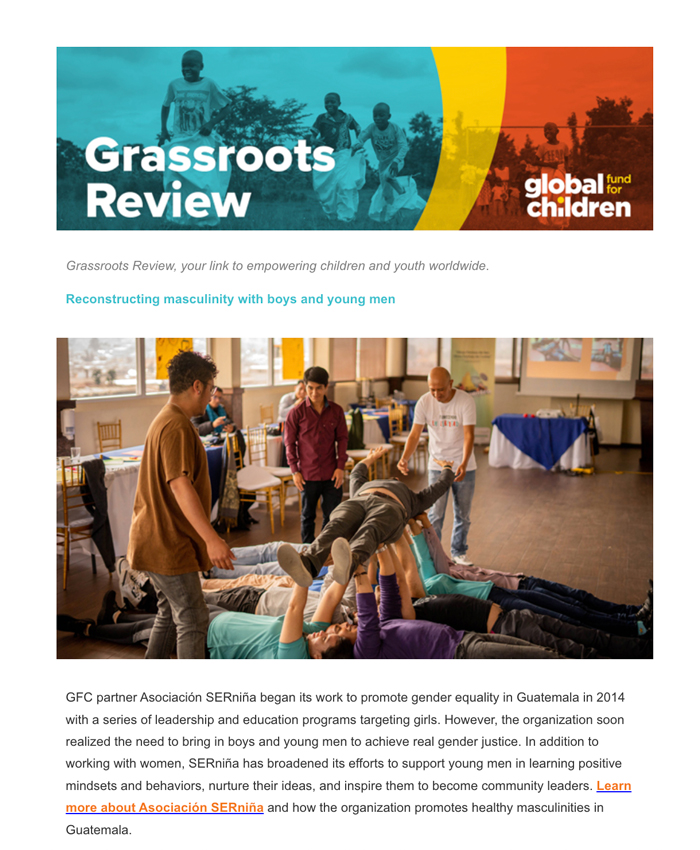 March 2023
Current Issue
Healthy masculinities, equitable evaluation & systematic change
GFC partner Asociación SERniña began its work to promote gender equality in Guatemala in 2014 with a series of leadership and education programs targeting girls. However, the organization soon realized the need to bring in boys and young men to achieve real gender justice. In addition to working with women, SERniña has broadened its efforts to support young men in learning positive mindsets and behaviors, nurture their ideas, and inspire them to become community leaders. Learn more about Asociación SERniña and how the organization promotes healthy masculinities in Guatemala.
READ NOW
Impact in Your Inbox
Stay in the know about what's happening at Global Fund for Children, including news and stories, special events, and more!