We're excited to introduce you to our 2020 Maya Ajmera Sustainability Award winners: Ashanti Perú and Institute for Rural Initiatives!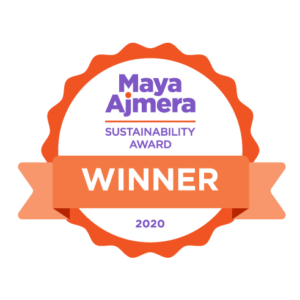 The annual Sustainability Awards – named in honor of Global Fund for Children's founder Maya Ajmera ­– celebrate the achievements of successful community-based organizations and provide an investment in their long-term stability.
In the midst of the global coronavirus pandemic, the 2020 awards recognize two outstanding organizations that have persevered despite unprecedented challenges. Ashanti Perú in Peru and Institute for Rural Initiatives (IRI) in Moldova are working to meet the most pressing needs of young people and their communities, while thinking strategically about how to build more equal futures for children and youth beyond the pandemic.
COVID-19 has upended business as usual for GFC's local partners and prompted deeper reflection about their roles. Many have pivoted toward meeting immediate needs of the young people and communities they serve. They have helped get cash, food, medicine, protective gear, information, and more to children, youth, and families most in need. Some have adapted their programming and outreach to virtual spaces, while others have reached program participants in creative ways through radio or community leaders. Many partners have strengthened their vision about the changes they want to see and have focused the spotlight on systemic inequities to ignite even bolder dreams about the future.
In this context, it was difficult to select only two 2020 Sustainability Award winners. Each of GFC's partners is navigating many aspects of sustainability during this pandemic. GFC is proud to have supported 103 local partners with $312,000 during the COVID-19 crisis through our Emergency Response Fund. Through this fund, we acknowledge that all our partners are navigating sustainability this year. At the same time, we have decided to honor two organizations – Ashanti Perú and Institute for Rural Initiatives – with the 2020 Maya Ajmera Sustainability Award.
In a period when the recent events in the United States have spurred a deeper examination of racial justice and the legacy of slavery, Ashanti Perú's work with Afro-descendant youth in Peru is a critical reminder that this effort goes well beyond the borders of the United States. The organization's powerful vision for change involves strengthening networks of Afro-descendant youth in the region. In Moldova, Institute for Rural Initiatives has shown through its response to COVID-19, and much of the organization's history, that true sustainability requires deep listening and building ownership with young people and communities so that work may carry on even without the support of organizations.
Ashanti Perú / Lima, Peru
Ashanti Perú is a youth-led network that works with and on behalf of Afro-descendent children and youth to combat racism, discrimination, and poverty through education and advocacy.
"We are daughters and sons of survivors of the slave trade in the Americas. The ability to adapt and resist in the worst moments are valuable inheritances that our African ancestors left us."
Ashanti Perú's response to the coronavirus pandemic is imbued with this adaptability and resistance.
Forced to suspend its regular youth leadership activities, Ashanti Perú quickly pivoted to help Afro-Peruvians who had lost their jobs during lockdown seek immediate employment. Many Afro-Peruvians live in extreme poverty, and the network helped more than 100 young Afro-Peruvians find new livelihoods in sectors like food delivery, public sanitation, gardening, and animal care.
At the same time, Ashanti Perú started bringing these young people together online to continue learning, reflecting, and envisioning a new normality – one without police violence, free from all discrimination, and with racial justice.
Now, Ashanti Perú is turning the inability to meet in person into an opportunity to expand its work to international audiences online. The Sustainability Award will help Ashanti Perú share experiences from Peru and build new networks of Afro-descendent young people in other countries throughout the Americas.
Read more about Ashanti Perú and its coronavirus response.
Institute for Rural Initiatives (IRI) / Chisinau, Moldova
Institute for Rural Initiatives promotes socioeconomic initiatives in rural communities in Moldova, with a focus on young people from disadvantaged and marginalized populations.
"When an idea comes from the locals, the chances that the idea will be promoted even in crisis situations become significantly higher. IRI is moving in this direction."
In the midst of fear and uncertainty, this philosophy guided IRI's coronavirus pandemic response.
As COVID-19 began to unfold, IRI asked its local partners in 40 villages: "What does your community needs right now?" It learned that rural communities were facing increased vulnerabilities, including hunger and starvation, as they struggled to obtain fresh food and hygiene supplies.
IRI is working with local groups directly within these villages to provide food and hygiene assistance to hundreds of children and families. These local groups are also raising awareness about the disease and cultivating online marketplaces for community members to sell income-generating goods.
The Sustainability Award will help IRI build additional, self-sustaining models of funding to continue its critical work with rural children and families. This includes creating a social enterprise in the field of rural tourism.
Read more about Institute for Rural Initiatives and its coronavirus response.
Each year, GFC offers the Maya Ajmera Sustainability Award to a few of its outstanding partners. Since 2005, 150 community-based organizations have received the award and used the funds to support their long-term stability. Learn more about the award.
Header photo: Participants engage in an Ashanti Perú workshop. Photo Credit: Estrella Vivanco-Stevenson.