We're thrilled to introduce you to the 2021 winners of our Maya Ajmera Sustainability Awards, Asociación Comunitaria Hilarte and Association Jeunesse Espoir, and the winner of our Robert D. Stillman Dignity Award, LeapForWord!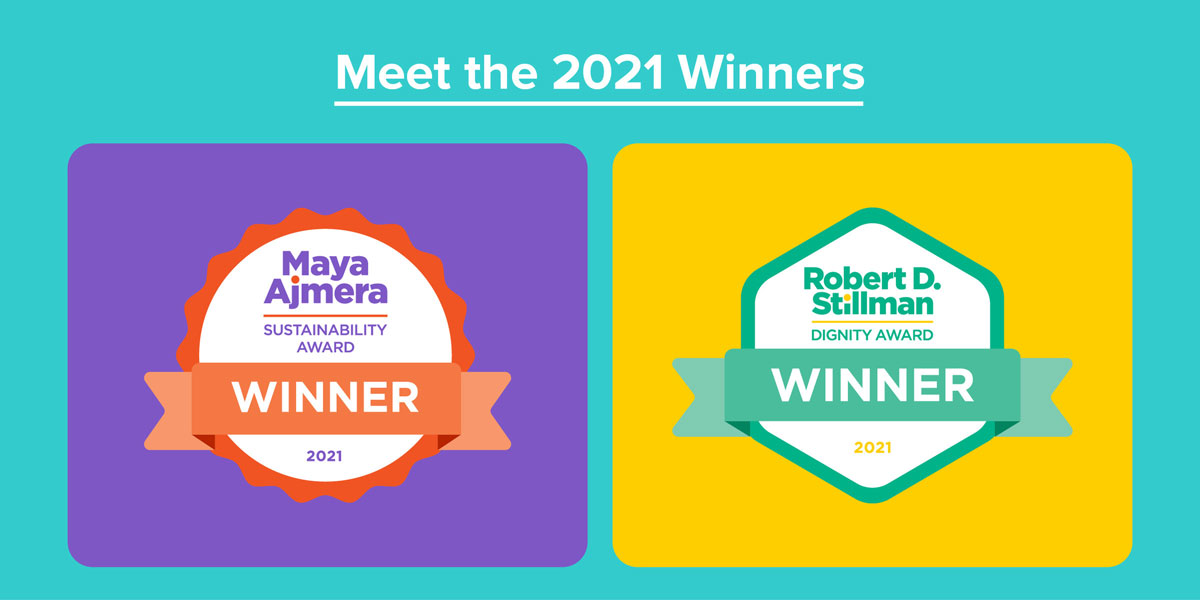 Maya Ajmera Sustainability Award
Each year, Global Fund for Children offers the Maya Ajmera Sustainability Award – named in honor of founder Maya Ajmera – to organizations that have demonstrated exceptional success and commitment to long-term change. The award, which has been given to 165 community-based organizations since 2005, provides an investment in the winners' long-term stability at a critical stage in their development.
With support from GFC, each winner determines how to apply the award funds toward its sustainability – whether that means establishing a reserve fund, investing in human resources, or implementing creative revenue generation activities.
Meet this year's Sustainability Award winners:
ASOCIACION COMUNITARIA HILARTE
Guayaquil, Ecuador
Asociación Comunitaria Hilarte provides educational and rehabilitation services for children and young people in Guayaquil, using art and play as its primary tools.
"We present ourselves as an organization with local leadership in education […] where art and play come together to form holistic and inclusive pedagogy, contributing to the transformation of the lives of girls, boys, adolescents, and their families," Asociación Comunitaria Hilarte wrote in its application.
The organization plans to use the Sustainability Award to expand its educational infrastructure, and to implement an educational and artistic store that will offer specialized art supplies and children's books, generating revenue for Asociación Comunitaria Hilarte.
ASSOCIATION JEUNESSE ESPOIR
Saint Louis, Senegal
Association Jeunesse Espoir advances the rights and education of adolescent girls – especially those who live on the streets or are at high risk for human trafficking, modern-day slavery, sexual violence, or abuse – by providing them with a safe space and psychosocial support, helping to reunite them with their families, and helping them to go to school.
"Association Jeunesse Espoir has, since its creation in January 2012, developed ten years of experience in the protection and care of children and young people in situations of economic vulnerability," the organization wrote in its application. "[Our organization] also recognizes the youth as being a partner and an essential asset for the sustainable development, peace, and prosperity of Africa and the world."
Association Jeunesse Espoir plans to use the Sustainability Award to strengthen an agricultural incubator that helps young people who are unable to return to school achieve economic independence through agricultural entrepreneurship.
Robert D. Stillman Dignity Award
Beginning in 2020, GFC has also offered the annual Robert D. Stillman Dignity Award to recognize outstanding organizations responding to the challenges and risks that affect the wellbeing of children and youth. Specifically, the award recognizes organizations that advance the dignity of young people by providing critical services, such as shelter, refuge, and humanitarian aid; fostering economic empowerment; and/or promoting welcoming communities through social inclusion programs.
This award was established to honor former GFC Board Chair Bob Stillman and his commitment to improving the lives of the children and youth who are most in need. It is made possible thanks to the generous contributions of Bob's family and friends.
Meet this year's winner:
LEAPFORWORD
Mumbai, India
LeapForWord (LFW) provides rural children in the state of Maharashtra with access to quality English education by designing and delivering an English curriculum that does not require a certified English teacher. The organization also provides job opportunities to local youth who are trained by LFW as English instructors.
"Teachers who benefit from our content invite other teachers from their networks to come and explore the product," LFW wrote in its application. "It is through this word of mouth that in Maharashtra our work scaled from 300 teachers in 2015 to 112,000 teachers in 2020."
LFW plans to use the Dignity Award to invest in its youngest team members by offering an annual award to promising young staffers. Most of LFW's junior staff come from low-income backgrounds, and many are the sole breadwinners in their homes. LFW wants to honor them for their resilience during the pandemic and for their loyalty to the organization.
The Sustainability and Dignity Award winners were chosen by last year's Sustainability Award winners as well as two representatives from GFC's Youth Leadership Council through a participatory selection process.
Learn more about the Maya Ajmera Sustainability Award and the Robert D. Stillman Dignity Award.
Header photo: Children participating in a LeapForWord program. © LeapForWord