In 2012, a group of individuals in Kyrgyzstan came together around a shared concern: as parents and grandparents of children with autism, they could not find any support services or resources. In response, they created Hand in Hand.
"Over the past seven years, starting from scratch, we've grown to one of the leading organizations in the country providing services to children with disabilities," said Zhyldyz Sadykova, Chair of Hand in Hand, who also helped to establish the organization.
Hand in Hand is a 2019 Maya Ajmera Sustainability Award winner, honoring outstanding GFC partners that have achieved exceptional success by making big changes in their communities and countries. Throughout its GFC partnership, Hand in Hand has demonstrated consistent innovation and effectiveness – both in its direct services to children, and in its growing influence across Kyrgyzstan.
In a country where autism is widely misdiagnosed and misunderstood, Hand in Hand educates parents about the condition and trains healthcare professionals to identify autism and refer children for proper care. The organization established the first center in the country that is devoted entirely to assisting children with autism.
At the center, children take part in daily and weekly treatment, testing, and educational sessions. Each child works with a team of specialists who together empower the child to meet their personal needs and goals. The organization also works extensively with parents and caregivers, helping them to better understand their children's abilities and challenges.
Over the years, while providing these services to hundreds of children and families, Hand in Hand also worked to grow stronger as an organization and systemically influence the way children with autism are diagnosed and cared for.
"After our trainings of health care workers and a lot of information work through mass media, we were able to reduce the age of children who get their diagnosis from 6-8 years to 3-4 years. Last year children under age 2 started to come to the Center for help," Zhyldyz said. "This is a great victory because the chances of catching up with their peers in development are higher if the right teaching approach for young children is used."
Hand in Hand has also helped develop and advocate for laws advancing the rights of children with disabilities. The organization played a key role in establishing a clinical protocol for children with autism, and in expanding their educational opportunities. In 2019, the national government approved an official concept for the development of inclusive education – an initiative spearheaded by Zhyldyz, among others.
"When we first partnered with GFC in 2014, we were a novice organization. Now we are more sustainable," Zhyldyz said.
Once operating out of a shared, temporary space, Hand in Hand has since acquired its own buildings, where it now employs more than 40 different specialists. It has opened a branch in the city of Karakol and has trained numerous specialists, who have opened three additional centers for children with autism in Bishkek.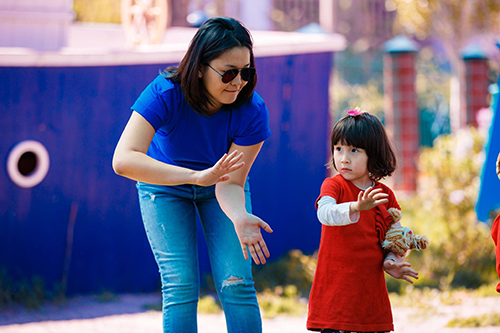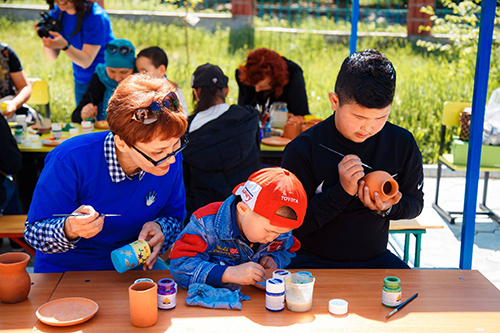 One of Hand in Hand's most recent projects is a culinary shop, where young people with autism learn pre-professional skills. Ten percent of the income from the shop supports Hand in Hand's work. The organization is using its Sustainability Award to purchase a food truck for the shop.
"With a food truck we can get permits for sale in several locations in the city, as well as to travel to fairs during large events, which will allow us to increase revenue from sales and, in the future, to hire more young people with autism," Zhyldyz said.
At GFC, we're incredibly proud to see our partners innovate and evolve, always striving to get better at what they do. Hand in Hand exemplifies this approach.
"We are constantly looking for new ways of working with children with autism and piloting them at our center, in order to share experiences with other partners and centers," Zhyldyz said. "In a few years' time, we see Hand in Hand as a methodical center that trains and supports new organizations working with children with autism and other disabilities."