We're thrilled to announce the 2023 winner of our Maya Ajmera Sustainability Award, CASE SALONE, and the 2023 winner of our Robert D. Stillman Dignity Award, Faith Foundation!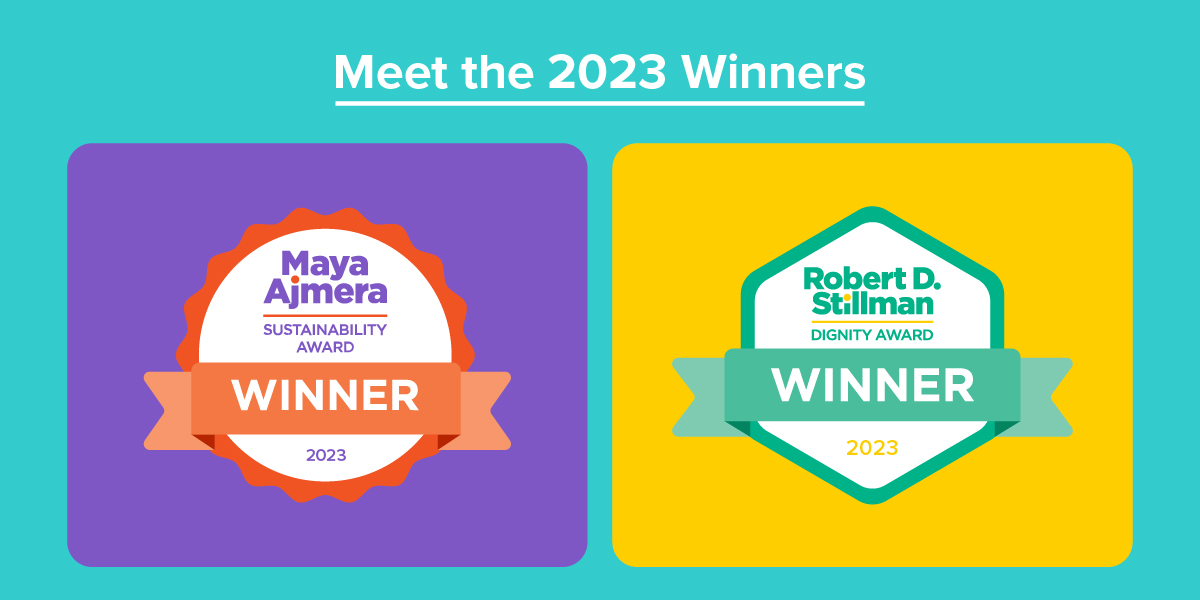 Maya Ajmera Sustainability Award
Each year, Global Fund for Children gives out the Maya Ajmera Sustainability Award. Named after GFC's founder Maya Ajmera – who currently serves as the President and CEO of Society for Science and the Executive Publisher of Science News – the award recognizes the accomplishments of exceptionally successful GFC partners and their commitment to long-term change.
This award, which GFC has given to 170 community-based organizations since 2005, provides an investment in the winners' long-term stability at a critical stage in their development. The winners can use the awarded funds to promote their sustainability – whether that means establishing a reserve fund, investing in human resources, or implementing creative revenue generation activities.
CASE SALONE
Bo, Sierra Leone
Dedicated to removing barriers to girls' education in Sierra Leone, Center for Advocacy and Sustainable Empowerment (CASE SALONE) empowers girls to stay in school, realize their potential, and take on leadership positions. Working in schools and communities, the organization establishes student empowerment clubs; trains girls in leadership and public speaking; and provides girls with safe spaces and counseling services. It also operates savings initiatives to help parents invest in their children's education.
CASE SALONE plans to use the Sustainability Award to strengthen its Teen Talk program, which builds adolescents' capacity to advance their rights. It will also invest in other programs, including a microloan initiative that helps parents financially support their children's education. In addition, the award funds will be used to support staff salaries, fundraising training for staff, and office-related costs like rent.
"The Teen Talk program with the adolescents has paid dividends, especially in the rural communities where we work," said Rassie Bah, the organization's Founder and Executive Director. "The adolescents are boldly and proudly speaking about human rights. The Teen Talk program has helped them to know that they have rights to certain things like education, health, freedom of association, and, most importantly, the right to bodily integrity."
Robert D. Stillman Dignity Award
GFC began offering the annual Robert D. Stillman Dignity Award in 2020. This award recognizes organizations that advance the dignity of young people by providing critical services such as shelter, refuge, and humanitarian aid; fostering economic empowerment; and/or promoting welcoming communities through social inclusion programs.
The award was established to honor former GFC Board Chair Bob Stillman and his commitment to improving the lives of the children and youth who are most in need. It is made possible thanks to the generous contributions of Bob's family and friends.
Faith Foundation
Shillong, India
Working in and around the city of Shillong in India's Meghalaya state, Faith Foundation helps prevent child sexual abuse and early marriage; rescue, rehabilitate, and reintegrate trafficked women and girls; prevent domestic violence; and support abandoned women.
With this award, Faith Foundation plans to strengthen the leadership skills of its team through leadership training and to invest in organizational development.
"Our five-year vision is to establish Faith Foundation as an organization in Meghalaya that supports children, schools, and communities to prevent and respond to child sexual abuse and other child protection related issues," said Shannon Massar, the organization's Co-Founder and Director. "We are looking to create and build a safe and child-friendly school model to strengthen the capacities of schools in understanding, preventing, and responding to issues related to children."
The Sustainability and Dignity Award winners were chosen by previous award winners as well as representatives from GFC's Youth Leadership Council through a participatory selection process.
Learn more about the Maya Ajmera Sustainability Award and the Robert D. Stillman Dignity Award.
Header photo: Girls participating in a CASE SALONE program in Sierra Leone. © CASE SALONE