Global Fund for Children announces new Youth Leadership Council members
GFC is excited to welcome eight new members to its Youth Leadership Council. These young leaders serve as advisers to GFC and advocate for the needs of their peers.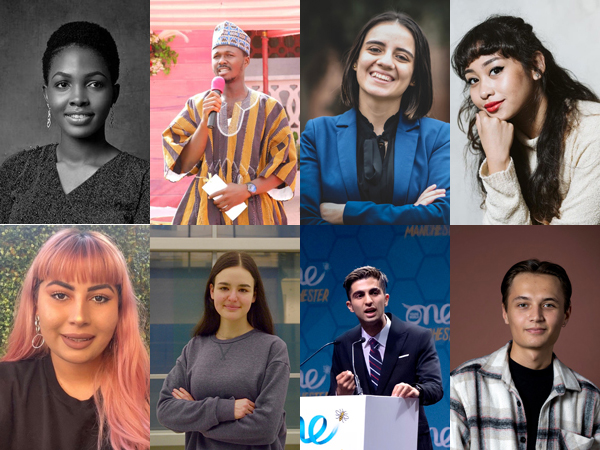 The new Youth Leadership Council members come from around the world and bring with them a wide range of experience.
Based in Nigeria, Adibeli Chidinma promotes good health for young people in Africa through podcasts, media campaigns, and community outreach. Ayuba Huudu, the founder of Save Aid Project, is a youth advocate and social worker who advances access to opportunities for marginalized groups in Ghana.
Hailing from Peru, Stephani Paliza is the General Coordinator at Fundación Multitudes, a Chilean nongovernmental organization, where she oversees funding and partnerships for the Women's Observatory Against Disinformation. From the Philippines, Maria Veronica O. Papa is a Public Policies Researcher at Policy International, a policy group advocating for competition in the micro, small, and medium-sized enterprise (MSME) sector, with a focus on Southeast Asia.
Chilean activist Paloma J. Paul belongs to Disidencias en Red, a political advocacy organization that promotes LGBTQI+ rights in Chile and beyond. From Moldova, Milena Rusu is the founder of Feminismd, the first youth-led organization focused on fighting for gender equality in the country and a partner organization in GFC's Spark Fund.
A digital healthcare expert from Iraq, Nojus Saad is the President of Youth For Women Foundation, a French multinational nonprofit organization. Finally, Rostyslav Semka, a 2021 panelist for GFC's Spark Fund, has been working in the civic sector in Ukraine since 2019 and is the head of Inspiration Place, a local nongovernmental organization.
These new members join existing Youth Leadership Council members Saro Imran, Saru Khadka, and Solomon Tawanda Ndondo.
Learn more about our Youth Leadership Council members and read their full bios.