Meet Esther, GFC's new Communications & Media Intern
Meet Esther Aoko! GFC's new Communications & Media Intern shares how she found her passion for community advocacy and what attracted her to GFC.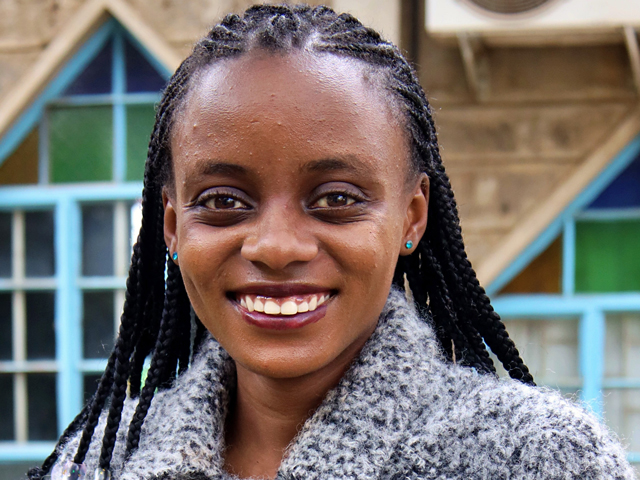 CAN YOU TELL US ABOUT WHERE YOU'RE FROM AND ABOUT YOUR BACKGROUND?
I was born in Nairobi, the capital of Kenya. My mum is a primary-school teacher, and my dad was a real estate agent. I studied at my mum's school in the early stages of my education and then I went to a public primary school. After completing primary school, I attended high school, where I got a chance to discover who I was and who I wanted to be.
I was unable to get the funds to enroll in university after high school, and it seemed like a setback at the beginning because all my friends were going. I was left wondering what I was going to do with my time. I stayed home for a couple of months and then decided to join a community group as a volunteer. As part of the group, I spent my time assisting members of my community whenever they required help.
At the time, I didn't know that this was how I would discover my passion. I also didn't know that this would turn out to be something that I would end up actively wanting to do for a long time. I have been volunteering and working in the humanitarian sector since then, and it has been very fulfilling.
Through working for different organizations, I was able to save up and enroll at the University of Nairobi, where I am currently pursuing a bachelor's degree in diplomacy and international studies.
WHAT'S YOUR FAVORITE CHILDHOOD MEMORY?
It was in 2013, during the campaign for the general elections in Kenya. I remember watching news updates with my mum and seeing a list of the people who were running for the presidential position. When I saw the name of Martha Karua – a woman vying for the position – I got butterflies in my stomach.
I was so used to seeing only men trying for the top positions, which was deeply rooted in the idea that women were not capable of being leaders and that the political space was a man's world. Unfortunately, this narrative was passed down from generation to generation, and therefore I grew up believing it was true. I was in shock, and I asked my mum whether women were allowed to run for president, since I couldn't believe my eyes. When she confirmed that they could, I was so excited, and the next day that is all I talked about with my classmates at school.
Martha Karua's presidential campaign was a bold move that created so many future opportunities for women in leadership. And for little girls like me, it was an indication that our dreams could come true, regardless of how scary the obstacles seemed. This is my favorite memory because it was on this day that something in me shifted, and suddenly all that seemed impossible was made possible.
WHAT DREW YOU TO THIS LINE OF WORK AND TO GFC?
I believe that there is always more than meets the eye, and because of this, I am drawn to the idea of shifting power and giving a chance to people who would not otherwise be considered for opportunities. Having had the privilege to work with and for community-based organizations, I have had a frontline seat to the circumstances that strip them of the opportunity to acquire funding. It is not that they are not doing the work; it's because they do not have access to resources and platforms that will allow them to better position themselves for funding.
I love that one of GFC's main goals is to change this and ensure that community-based organizations are able to access funding.
WHAT DO YOU THINK WILL BE THE MOST CHALLENGING PART OF YOUR JOB? WHAT WILL BE THE MOST SATISFYING?
I think the most challenging and satisfying part of my job will be unlearning some of the practices that I have picked up over the years, to allow room for learning and relearning of new best practices.
WHY DO YOU BELIEVE GFC'S WORK IS IMPORTANT?
I strongly believe that power inherently lies with those who decide what is prioritized, relevant, or needed in society. Exercising these decisions requires equity and resources. GFC's work is important because the organization is consciously moving away from the traditional top-down paradigm, which in many instances takes away power from community-based organizations.
This is an audacious and much-needed step toward effecting a power shift. Even though community-based organizations are the backbone of change realization in the world, they are often left behind, as they rarely get a chance to access funding. This is where GFC's work comes in.
GFC invests in community-based organizations around the world to help children and youth reach their full potential and advance their rights. By providing flexible funding for community-based organizations and building trust-based relationships with its partners, GFC gives these organizations back their power that is constantly taken away by a lack of resources and support. GFC's approach goes a long way to ensuring that communities are able to not only own their needs and solutions but also discover and implement ways of retaining their power. Power shifts when power is shared!
#FunFacts About Esther
WHAT WAS YOUR FAVORITE TOY GROWING UP?
I had this big toy car that I got as a gift for winning an essay competition in school. It was red, which is my favorite color. This was my all-time favorite toy, as getting it was a clear indication that I could do anything that I set my mind to. It was made of very durable material, and I kept it in my room over the years. I recently had to let go of it, which was really sad. I passed it down to my nephew, and I hope he takes care of it and passes it down to someone else someday.
WHAT DID YOU WANT TO BE WHEN YOU GREW UP?
I was always obsessed with the idea of defending those who were not able to defend themselves for one reason or another. This got me into a lot of trouble both at school and at home. As I grew up, I figured that being a lawyer would allow me to do this, so I started focusing on that. Unfortunately, this dream started becoming a blur when I was unable to attend university after completing high school.
I still wanted to fight for others, and this drove me to look for other ways of doing that. I started doing community advocacy, where I educated the members of my community about their rights, how to recognize when their rights were taken away, and what they could do when this happened. Through doing this, I found my voice again. Since then, I have used my voice to shine a spotlight on the diverse challenges that children and young people face, and also to share recommendations on how to eradicate these challenges.
My 8-year-old self still believes it's possible for me to study law and become a lawyer, and I promise to keep the dream alive and work relentlessly toward its realization.
WHAT DO YOU DO FOR FUN?
I love going to movie theaters and reading books.
DO YOU HAVE ANY PETS?
No, I do not have any pets.
IF YOU COULD HAVE ANY SUPERPOWER, WHAT WOULD IT BE?
Definitely flying. It would be really cool to be high in the sky and look down at this beautiful Earth.