GFC Founder Maya Ajmera Remembers Juliette Gimon
Memoriam
Juliette Gimon (1972-2018)
Global Fund for Children Board Member and Chair (2002-2011)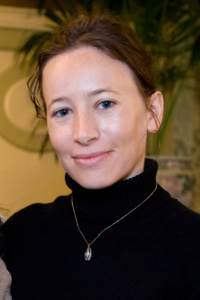 How do we take the measure of a person's life?  What indices tell us who someone might be, and where her heart lies?  And how do we best grieve when that life leaves us far too soon, and devastates us all?
Juliette Gimon was a confidant, an advisor, a colleague, and, most of all, a wonderful friend.  She held within her a quiet passion that sought to comfort, to assure and to elevate all those around her, from her family, to her associates, to countless friends, and to those whom she might never meet or know, but whose lives in some way needed mending.  Such passion is rare, and rarer still to be so constant, yet it set the arc of Juliette's life.
I believe she lived for others – not in the clichéd sense of that phrase but in the true essence of selfless love, the need to be connected to what and who was around her, and the commitment to do whatever she could, whatever her advantages permitted, to create something better and to change the lives of those struggling.
I came to know Juliette during the early years of Global Fund for Children, which I founded in 1994.  We were a young organization whose mission of supporting the world's most marginalized children through innovative grassroots organizations captured Juliette's attention, and, like the organization, the two of us were young as well.  Juliette sought to understand the organization's model, its challenges and its potential.  When she became convinced that this was something that could change the lives of children and young people most of the world chose not to see, she became a champion of the cause.
Juliette joined GFC's board when she was just 30, a remarkably young age for such a commitment.  In the intervening years, her wisdom, insights and deep, deep concern for the lives of these children helped shape the organization and pushed it into newer, higher levels of action.  In the process, hundreds of thousands of young lives across the globe were forever changed, through organizations like Prerana in India working with trafficked girls, and the Afghan Institute for Learning providing education to boys and girls, and Nyaka AIDS Orphan Project in Uganda supporting AIDS orphans, and CSARO in Cambodia giving hope to child waste pickers, and many more organizations around the world.
She assumed the chairmanship of the GFC board in 2006, and for the next five years Juliette was my closest advisor and one of my dearest friends.  It was a true partnership. She brought with her the obvious passion for the work coupled with an analytical approach that challenged us all to improve constantly what we were doing and how we were doing it.  She was, as a colleague once said, "elegantly tough."
Her passion took her to the continent of Africa, to India, to Latin America and many parts of the United States, anywhere that would help her understand more deeply the conditions that placed those less fortunate where they were, and what she might be able to do to improve their lives.  And always she conducted herself with grace, with gentility, and with compassion.
While she was comfortable in the presence of the highest ranks of culture, society and commerce, I believe she found the most joy in holding the hand of a child, especially that of her own beautiful daughter.  The places her life took her, the work she pursued, all stemmed, I think, from this central love, this joyful commitment to children and what their futures could hold.
Juliette's legacy will live forever at Global Fund for Children.
The American poet Mary Oliver wrote, 'When it's over, I don't want to wonder if I have made of my life something particular, and real.  I don't want to find myself sighing and frightened, or full of argument.  I don't want to end up simply having visited this world.'
Juliette Francoise Gimon was never a visitor.  This world has been forever changed by her footsteps, her gentle touch, and her undying, infinite heart.
—Maya Ajmera, Founder & Former President (1994-2011)
---
To honor Juliette's brave and passionate spirit, Global Fund for Children is establishing the Juliette Gimon Fund for Courageous Leadership, with support from the William and Flora Hewlett Foundation and other donors.  If you would like to make a contribution in Juliette's honor, please donate here.