Masoom / Mumbai, India
In Mumbai, thousands of youth like Shadab work by day and study by night. One grassroots organization is making sure they get a high-quality education to break the cycle of poverty.
Like thousands of other teenagers in Mumbai, Shadab had two lives: by day, he worked in a factory making women's leather purses. By night, he studied at a government-run night school for youth who work during the day.
The young people studying in India's night schools have the odds stacked against them. Most live in poverty, working long hours to support themselves while seeking the education they need for gainful employment.
Though the government runs the schools, resources for learning materials, teacher training, and other improvements are scarce. In fact, a mere 3% of students leave school adequately prepared for good jobs.
A bright student, Shadab was in ninth grade when he contracted tuberculosis due to poor nutrition. He stopped attending classes regularly, and by the end of the school year, he had almost entirely given up on his education. That is, until Masoom stepped in.
Masoom is the first organization dedicated to improving educational standards in Maharashtra's night schools, and to transforming the lives of the young students who study there.
A project manager who was monitoring Shadab's school noticed that he had dropped out, and personally encouraged him to return to his studies. When Shadab's illness came to light, Masoom took him to the doctor and bore the entire cost of his treatment—an expense Shadab never could have afforded on his own.
As he regained his health, Shadab took his exams, and was ecstatic when he received the results—he not only passed, but achieved the highest marks in his school at 82%.
"I am very thankful to the Masoom team for their support," Shadab says. "Masoom not only helped for my treatment but also inspired me to continue my studies."
Today, Shadab attends Maharshi Dayanand College in Mumbai and is preparing to take the eligibility exam for medical school. He still works at the factory during the day before taking his college courses in the evening—a schedule that is at once hard and rewarding. Masoom continues to track his progress; once Shadab passes his eligibility exam, Masoom plans to provide him with a scholarship to support his degree.
© Masoom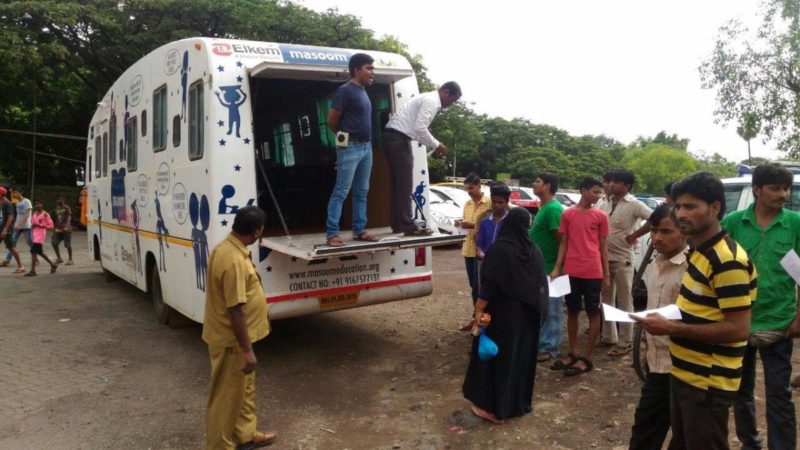 © Masoom
Above: Masoom leads enrollment drives to encourage more working youth to enroll in school and its programs. 
Masoom's transformative model works at both the student level and the school level.
First, Masoom provides each night school with educational materials and programs that improve the curriculum and meet the students' needs—from textbooks and mobile science labs to sports activities and nutritional supplements.
Next, teachers attend workshops to build their skills, while students receive career counseling and vocational training to help them launch their careers. Together, these services create stronger, more effective schools and ensure that students like Shadab don't fall through the cracks.
© Masoom
Above: Masoom's Tech on Wheels initiative brings a mobile computer lab into night schools that do not have their own modern equipment.
When Global Fund for Children became its first major international funder in 2009, Masoom had a budget of only $2,000 and served 200 youth. Now internationally recognized for its innovative education model, Masoom has increased its budget to more than $355,000 and reaches thousands of students at more than 50 night schools across the state of Maharashtra. The organization is now poised to replicate its model across the country.
© Masoom
Over the years, Masoom has taken full advantage of its GFC partnership, receiving multiple grants to improve its systems and infrastructure. Global Fund for Children has also directly helped Masoom bring in nearly $400,000 in additional funding from other donors.
In 2017, Masoom was chosen for Step Up, a GFC pilot program designed to take some of the best-performing grassroots partners to the next level of impact and influence. As a result, the future of India's night schools—and the students who study in the darkest hours—is bright.