In March 2020, as the COVID-19 pandemic took hold of the world, Global Fund for Children (GFC) shifted gears and turned what was originally an in-person convening with grassroots organizations in rural Liberia and Sierra Leone into its first virtual convening.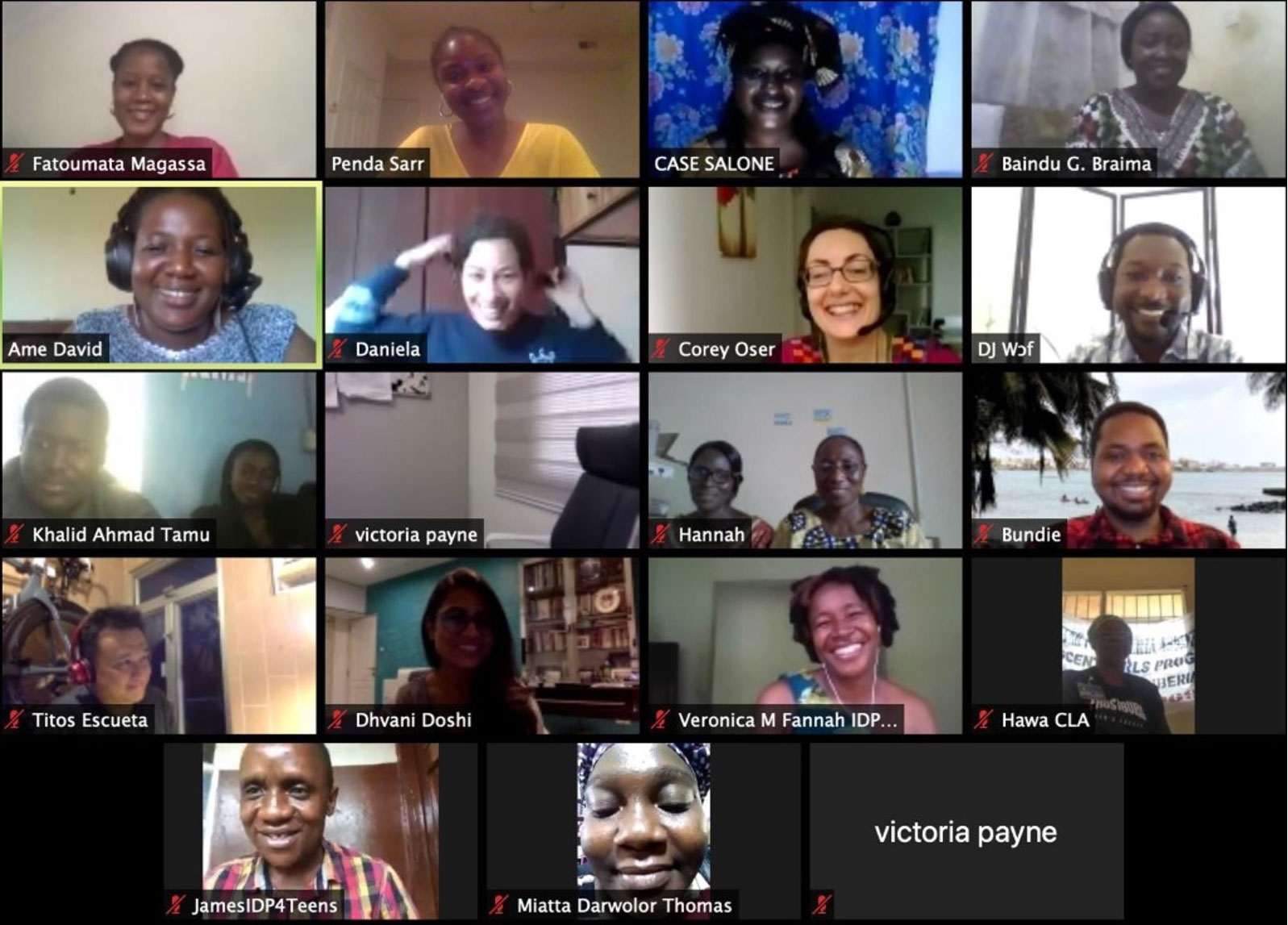 On June 15, GFC's Africa team opened a new Zoom session and waited excitedly – and a bit anxiously – for grassroots partners from Liberia and Sierra Leone to join. One by one, they appeared on the screen, smiling as everyone connected across the miles. GFC's first virtual convening was off and running!
We could not have foreseen this moment in February, when members of GFC's Africa team traveled to rural parts of Liberia and Sierra Leone to find eight women- and youth-led organizations to partner with in the new Ending Violence Against Girls in West Africa initiative. Designed in partnership with NoVo Foundation, this initiative supports grassroots organizations in West Africa to develop innovative strategies to address the root causes of violence against girls and women.
In March, as the team was organizing an in-person convening to kick off the initiative in the first week of April, the COVID-19 pandemic took hold of the world and disrupted everyone's plans. The decision to move the convening online was not an easy one. Where these partners are located, access to IT equipment, electricity, and reliable internet are luxuries. However, we saw this as an opportunity to learn how to overcome such obstacles. We also hoped the experience would increase our partners' comfort with digital spaces and enable them to take part in critical conversations happening online.
"The kickoff convening was held to create acquaintance with partners, know what GFC is all about and what they do. This was achieved and we as partners were able to know what GFC does and how to connect as a cohort to enhance a friendly environment for social justice for children.'' – Participant of the virtual kickoff
Despite our familiarity with technology and remote communication, planning and implementing a virtual convening was a new challenge for us – and for our partners. As our partners made us aware of their limitations in terms of access to IT equipment and dependable internet, we transferred funds so they could buy needed resources and technology and subscribe to a reliable internet connection. Once the technology was in place, members of our team engaged in individual tutorials with our partners. Even before the actual convening began, partners and GFC staff became adept at using and navigating the Zoom videoconferencing platform.
"Through GFC I can now use Zoom comfortably." – Participant of the virtual kickoff
With our partners, we settled on June 15–19 for the virtual convening to launch the Ending Violence Against Girls in West Africa initiative. We wanted to create a safe space for partners to meet and get to know each other, exchange knowledge, discuss plans for the initiative, and ask any questions they might have about our partnership or the initiative.
We had held similar kickoff convenings many times in person, but holding the meeting virtually brought up new questions: How do you create a team environment and build relationships and trust in a virtual setting? How do you make sure that everyone is feeling comfortable and confident with this new way of coming together?
We started the convening by asking partners to share how they were feeling, using just one word. We got an array of answers, including nervous, curious, anxious, excited, and happy. Hearing an overwhelming number of positive responses, we were also happy, and hopeful.
To help people get to know each other, we added a twist to the introductions. Each person was asked to name a fruit that best described their personality, and to identify their favorite place in the world. Oranges were the most popular fruit answer. Many who chose oranges to describe their personality mentioned that they are tough on the outside and need to be peeled carefully, but when you open them up, they're soft and juicy inside, making it difficult to hate them. Others mentioned how oranges are a good source of energy and usually sweet. For many people, their favorite place was home, and almost everyone mentioned a specific person – a grandmother, father, sister, brother – who made the place their favorite.
"It was my first (such) experience and I later felt comfortable because the team helped me relax my nerves with some exercise and fun.'' – Participant of the virtual kickoff
One of our goals was to break down the traditional funder-grantee barrier. Partners were encouraged to share their experiences and knowledge, including their organizational journeys. By the end of our virtual convening, partners had a clearer sense that their relationship with GFC is a partnership and that our aim is to help them enhance their ability to better serve their communities.
To engage partners during the convening, we incorporated innovative interactive approaches, which played a big part in the meeting's ultimate success. Each day began with a question that asked everyone to share something about themselves. After all, trust comes from learning more about each other.
We took advantage of the videoconferencing technology to have fun, encourage active participation, and promote knowledge sharing, using an array of exercises and tools to break the ice, connect, and engage our colleagues. We used the screen-sharing feature to provide pictures and text during discussions. Breakout rooms hosted small-group discussions, promoting organic conversation and relationship building. Partners and staff were encouraged to keep their cameras on as much as possible so that we could see each other's faces and connect.
"It was the best online convening I have experienced. Informative, interactive, and engaging.'' – Participant of the virtual kickoff
We consciously provided avenues for engagement, and our partners did the rest – they eagerly participated in polls and used the raise-your-hand function and the chat feature to share their thoughts and ask questions. Finally, aware of the need for physical and virtual breaks, and to have a little fun, we held music and dance parties, and games and activities elicited laughter in between sessions. Partners brought energy and excitement to each day, and by the end, a wonderful camaraderie could be seen in our interactions.
Now that we are all more comfortable navigating virtual spaces, we continue to meet virtually on a regular basis to strengthen relationships and exchange knowledge. We look forward to supporting partners in their capacity development through additional sessions on some of the many topics covered during the convening. We were also delighted to learn of some partners' plans to team up with other organizations in the initiative to work together on the implementation of activities with similar goals.
"The importance of strong communication, networking and collaboration amongst partners in the same district or country can help work to be easier and cover larger targets." – Participant of the virtual kickoff
Another big advantage of a virtual meeting is the breaking down of geographic barriers – without the budget constraints of actual travel. The kickoff convening was a wonderful opportunity for GFC colleagues in the United States, Guatemala, Hong Kong, and India to connect with partners in West Africa. Various members of the GFC team, including senior management, participated, sharing their skill sets and even leading some sessions.
The virtual convening not only allowed us to meet the goals of our canceled in-person kickoff but pushed all of us – the GFC team and partners – to gain valuable new skills for navigating a world changed by COVID-19.
"The online convening was amazing, and I suggest GFC leverage the use of technology often. GFC should also look into supporting partners to set up technologically to enhance more cooperation, learning and sharing." – Participant of the virtual kickoff
---
GFC's Top 5 Tips for a Successful Virtual Convening
Consider participants' technological contexts, including internet connectivity and access to devices. It is important to support partners in obtaining reliable technology and a stable internet connection.
Limit the number of days to a maximum of 3 days in a week, for no more than 2.5 hours per day. Sitting in front of a screen day after day, for multiple hours, can be exhausting. Be mindful of time management and focus on one topic per day to avoid overloading the agenda. Allow more time for partners to share.
Make room for everyone to participate using the various modes of communication offered through the online platform you use. Suggestions include chat, polls, and collaborating on a live document. Use breakout rooms to allow for reflection and discussions in smaller, more intimate settings.
The wellbeing of all participants is essential, so be sure to incorporate breaks, stretching, and energizers into your agenda.
Have fun! Listen to music, dance, or play a game to get everyone energized and engaged.
Editor's note: GFC's Amé Atsu David, Bundie Kabanze, Alexander Kyerematen, Penda Sarr, and Liza Yanovich contributed to this blog.
Header photo: © Community Health Care Initiative