This story was originally published at Conveners. Conveners builds powerful communities of practice for mission-driven leaders to connect, learn, and collaborate with each other. The industry resources we develop break down organizational silos and unlock the collective potential of the Impact Ecosystem.
As the realities of the COVID-19 pandemic set in, my team at Global Fund for Children wondered and worried about how our 40+ community-based partners across Latin America would navigate this entirely unprecedented crisis.
We know that connecting with others has so many benefits, particularly in times of crisis and uncertainty, so we decided we could at least bring this diverse group of local grassroots leaders together virtually to generate and share learning as it emerged.
Yet as I was organizing online conversations for our partners, I was worried we'd leave people feeling like Zoom zombies after spending 90 minutes listening to others talk about such heavy stuff. I'm also a bit of a data geek, so while our Americas regional team brainstormed ways to make these large group video-calls more dynamic, I decided I wanted to test whether we were actually making people feel better or worse after participating. These video-calls were entirely voluntary, so people could just "vote with their feet" and not show up for the next one. So attendance was one potential metric, but I landed on a more direct but nuanced approach – ask participants how they felt.
We opened every video-call with some general words of welcome and a summary of what the session would look like, and then before going any further, we asked people a simple question: How are you feeling right now?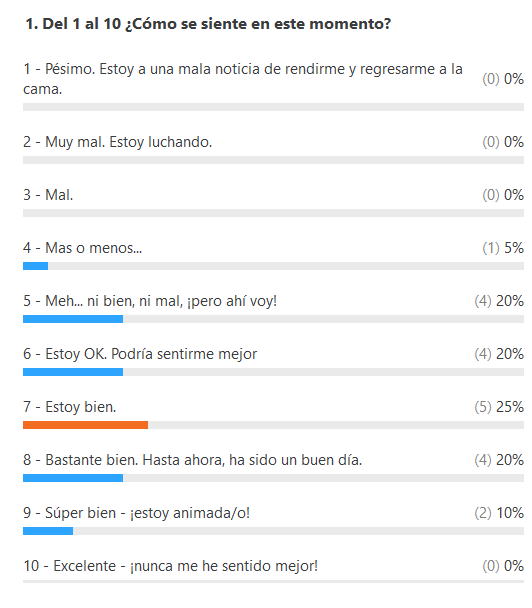 We'd share the results live, talk a bit about them, and move on to the activities and discussions we had planned. Some 80 minutes later, as we were wrapping up, we'd ask participants to answer the question again: How are you feeling right now?
We held three video-calls between April and May before taking a break (we started up again in late July). When we looked at the results of our polls, we learned four things.
1. People felt better after our calls
Even after the first call, we could see that we were going in the right direction – at least people were not left feeling worse! Each of the subsequent calls showed the same positive move toward people feeling, on average, better.
2. We got better at making people happier

By our third call, we'd been able to move from a 14% increase in happiness to a 22% increase in happiness. Though happiness wasn't the primary goal for these conversation spaces, the old adage "you pay attention to what you measure" certainly held true. As we planned each call, we became more intentional about how people would feel and what would make the space interesting, engaging, and a bit of an escape from the chaos swirling outside.
3. If you want to record the strongest increase in happiness possible, do the end-line poll after the surprise dance party, but …
If you want to end on the highest note possible, even if you can't prove it, sacrifice measurement integrity for the sake of unbridled fun. We were not meticulous in making sure the first poll was taken before we said anything uplifting, nor did we make the end-line poll the very last thing we did at the end of each call. Data collection cannot get in the way of the goal you're measuring. Electronic polls don't make people happy; human connection and dancing do.
4. There is no magic formula for sparking happiness in a virtual meeting – except perhaps novelty
With each video-call we challenged ourselves to come up with new activities we could use and different features of the technology we could deploy. Here's a short list of things we've tried over these three calls, often only once:
Stretching together
Guided meditation
Marking on a map where you are in the world, using Zoom's annotation option
Sharing one-word or -phrase responses to a personal reflection question via the chat box
Sending everyone into pairs (breakout rooms of two people each) to do introductions and share a reflection on a topic or question
Small group discussions in breakout rooms – this has been the most consistent "middle section" of our video-calls, lasting up to 50 minutes, which has been the only way to create space(s) for real conversation
Asking for motivational words from participants for their peers, via the chat box
Sharing a personal message from our team
Reading a poem
Physical energizers – we managed to get a very slow beat for Queen's "We Will Rock You" going with almost 50 people!
Deep breaths together
Sharing a link to an editable Google Doc with resources and space for participants to add more
Inviting participants to promote their upcoming online activities through the chat box
Announcements about other support available
Committing to emailing notes afterwards (and yes, following through)
Group photos
And yes, a surprise dance party
We'll have to keep pushing ourselves to be creative as the novelty of these activities wears off and the outside world continues to make happiness a challenge, but we think it's worth it.  What creative ideas have you come up with to bring happiness into your online meetings?