Global Fund for Children's Vice President of Programs Corey Oser reflects on a recent Programs team retreat.
"Organisations are like living beings. We often think of organisations as created to deliver outputs. However, organisations are not just functional – they are physical, emotional and spiritual. They have souls, and it is each organisation's soul song that keeps its rhythm going, energising and inspiring growth." – Hope Chigudu and Rudo Chigudu, Strategies for Building an Organisation with a Soul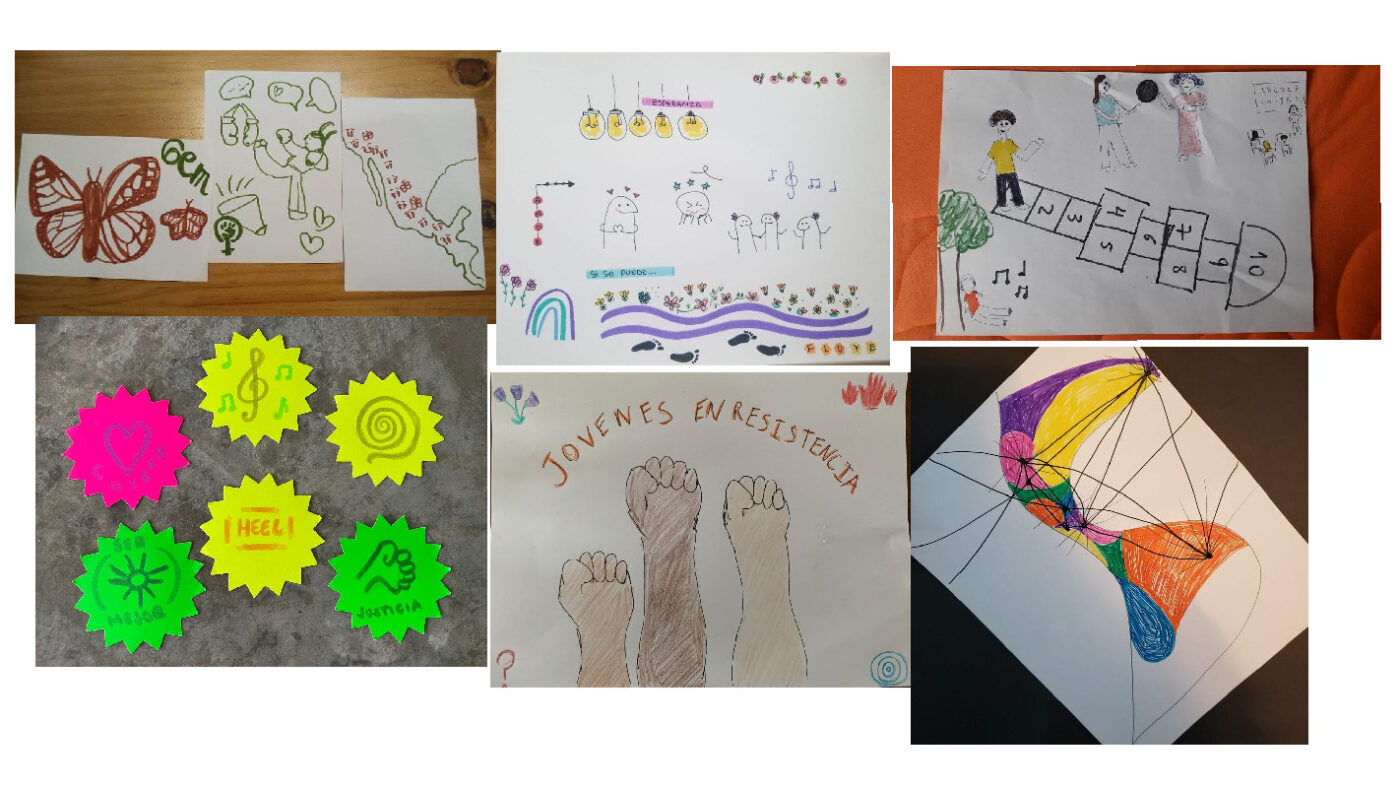 Walking three miles in solidarity with a transit strike. Shuttling across the dusty gate of an officially closed international border. Criss-crossing continents and countries for weeks at a time with essentials stuffed in backpacks. These are a few ways that members of the Programs team at GFC have met our current and prospective partners over the last few months – gathering in schools, backyards, and villages.
We have recently welcomed more than 75 new partners to our global networks and several new faces to our team, which now spans 15 countries. As we take in this expansion and new creative energy, we are also paying attention to all the ways that growth can affect us.
As a globe-spanning team with several members who have not met each other in person, we decided to convene virtually in early June to explore how we can maintain the level of care and engagement with our partners and each other at a time when our organization is growing.
At the retreat, we challenged ourselves to activate the right side of our brains and used our drawing supplies to create images of our current work with the dreams and questions we are sitting with.
Resistance as a form of care and tenderness. Art as a means of personal and social transformation. The power of play. Putting communities and constituents at the center. Moving from youth participation to being youth led.
These are a few themes and inspirations our team noticed after sharing our drawings with each other.
As our team increasingly engages with partners in learning groups connected by geography, we want to challenge our perspectives and build connections across regions. With this in mind, we also aimed to center the idea of collaboration and generate ideas about what we might explore together.
Wellbeing and inclusion: We talked about several areas under this broad category where we believe there is rich potential to build new partnerships and foster learning across regions, including children's mental health, inclusion and children with disabilities, LGBTQ+ youth, and different expressions of masculinity.
Voices for change: Inspired by a summit led by young people working with some of our partners in West Africa, the team shared an interest in exploring spaces for young people to come together, lead, and advocate for specific changes. Additional approaches we discussed were an international knowledge fair that brings young people and communities together around specific themes; storytelling for social justice organizations; and supporting organizations globally that equip children and youth with multimedia skills to tell their own stories that inspire community change.
Resilience for education in emergency situations: Inspired by our partners in Eastern Europe responding to the war in Ukraine, some of our team imagined how partners could come together to quickly respond to children's need for quality education and trauma-centered support in times of crisis.
As we told stories, transformed our ideas into images, wrote rap lyrics, and moved with abandon across our virtual space, a few principles emerged from our retreat that we feel are important during times of organizational growth and change:
Stay connected: We are meeting in person in small groups where we can, not only building plans but just being together, while we work toward a larger dream of bringing all of the team together. We are still embracing our virtual spaces and trying to use these in ways that keep them fresh even when they may feel tiring. We use Slack and WhatsApp to reach out informally to each other and to check in with our partners without agendas.
Embrace the uncertainty: We do not have recipes for many of the new things we are trying together, whether a youth-led participatory grantmaking fund or a global initiative around learning through play. We are learning to accept that we will not always know the outcomes and that shifting power means giving up control.
Creative expression is for everyone: As we become adults, it is easy to feel that expressing our ideas, values, and dreams through art or music or dance are things we can no longer do, because we think we lack talent, or we fear judgment. When we embrace a child's willingness to explore, we tap into new ways of being and expressing ourselves that can heal, enliven, or bring new insights.
Keep wellbeing at the center: We are reminded of the importance of wellbeing when we come together to dream or to laugh, when we navigate the balance of when to push ourselves and when to pause. Yet we strive to explore the political dimensions of wellbeing for ourselves and our partners. What are the structural and policy changes that affect wellbeing? How can wellbeing be more than an activity or a fad?
After one of our retreat activities was over, we reflected about how the instructions were only a guide. Each person or small group could have interpreted them in a different way. As we navigate this period of growth, we thought that this was a good metaphor for how we approach our work. We are connected through shared values and care for each other, but without strict frameworks or manuals for social change. Sometimes we may yearn for guidelines to tell us the way forward. Open instructions can be scary, but they leave room for creativity. As we grow, we are ready to be a little uncomfortable.