Changes to asylum law bar victims of gender-based violence from life-saving protections. Amy Fischer, Program Officer for Movement Building and Advocacy, explains how Global Fund for Children's grassroots partners are working together with migrant girls to fight for their lives.
In fall of 2016, I spent a week volunteering as a legal assistant at the Fort Bliss Doña Ana Range Complex near Chaparral, New Mexico. It was a temporary shelter, or tent city, for about 500 unaccompanied children.
I interviewed the young people, mostly teenagers, about their legal cases and the reasons they fled their home countries. I still remember talking to Carlos*, a 16-year-old and from El Salvador. Carlos was incredibly bright and was obsessed with the upcoming US election. We talked about the possibilities of a Trump and Clinton presidency and I left him with these words: "I've devoted years of my life to fighting for immigrant justice. I guarantee that no matter who wins, being an asylum seeker in this country is going to be an uphill battle. But I encourage you to fight, for your ability to stay here, and for your community."
The situation for asylum seekers, particularly young asylum seekers and those fleeing gender-based violence, has gotten worse than I ever could have imagined when speaking to Carlos a year and a half ago.
The newly implemented zero-tolerance policy at the border forces the separation of families and will traumatize children and youth for years to come. The American Academy of Pediatrics has been outspoken on how this will impact children in the long-term. While mass prosecutions of border crossers under Operation Streamline has existed since 2005, including family units and asylum seekers and implementing the program in 100% of cases is wholly new, and particularly dangerous.
And now, as family separation has garnered extreme public backlash, a new Executive Order aims to place families together in military facilities. But it also aims to change existing law and make it legal for those families to be detained together for extended periods of time—a situation that could place children in even greater danger than before. As much as children don't deserve to be separated from their parents, they also don't deserve to be incarcerated.
GFC partner Al Otro Lado captured this photo of a young protester. © Al Otro Lado
These actions are being coupled with systematic denials of asylum seekers at ports of entry, more deaths inside ICE and Border Patrol detention facilities, another tent city for unaccompanied children, and changes to asylum policy. These changes to asylum law, barring domestic violence victims and those fleeing gang violence from asylum protections, is an attack on women and girls fleeing gender based violence.
These new policy developments disproportionately impact adolescent migrant girls, like Marta.
Marta is a 17-year-old indigenous girl from Guatemala and speaks only Q'anjobol After surviving rape and gender-based violence, she and her mother fled to the United States to seek asylum. They were then forcibly separated by United States Customs and Border Protection. Marta's mom is now detained in an adult detention center and Marta is likely detained in a shelter operated by the Office of Refugee Resettlement. Marta and her mother don't know each other's whereabouts.  Their asylum claims, based upon domestic and gang violence, are now expected to be rejected. They now are facing deportation to even greater danger and possible death.
In 2017, with support from NoVo Foundation, Global Fund for Children launched a new initiative to support a transnational protection network for adolescent migrant girls. We are supporting a dozen grassroots organizations in Guatemala, Mexico and the United States that work to support, protect, and develop leadership in girls fleeing gender-based violence (often experiencing more gender-based violence in their migratory journey) and seeking asylum in Mexico and the United States.
In short, we're working to support girls like Marta.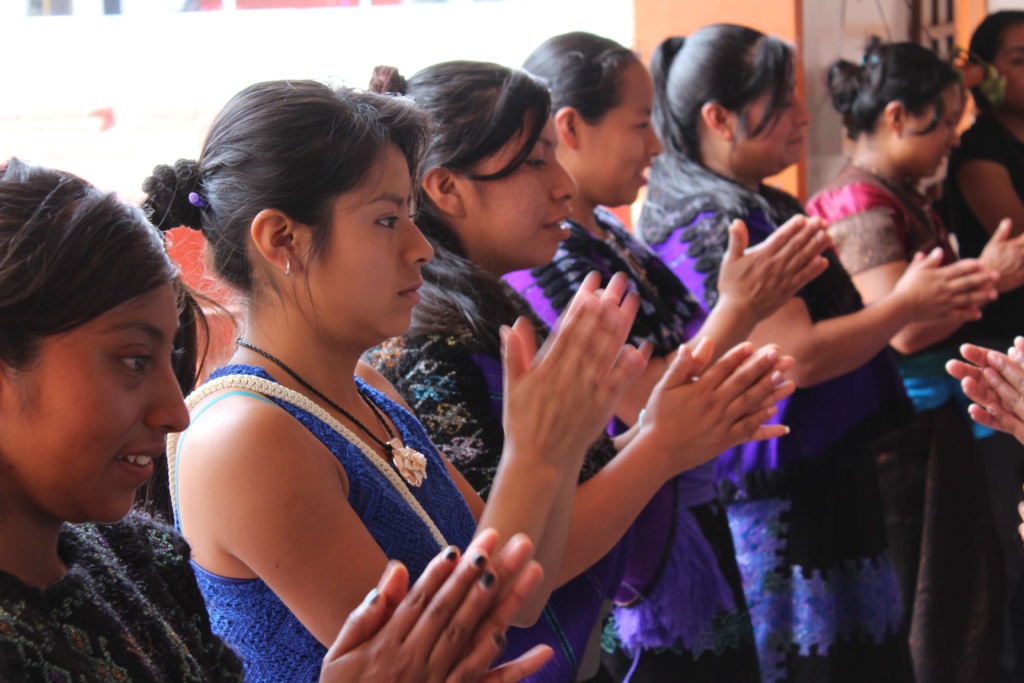 Girls served by GFC partner Centro de Derechos Humanos Fray Matías de Córdova in Tapachula, Mexico. © Global Fund for Children
Since 1997, Global Fund for Children has worked to support young people facing poverty, injustice, and discrimination all over the world. We understand that children are not inherently vulnerable, but are made vulnerable by policies and practices that put them in vulnerable situations. The recent changes in immigration policies and practices will do great harm to the migrant girls and boys we are deeply committed to and stand as an affront to our core values as an organization. And those changes originate just minutes from our headquarters in Washington, DC.
I have met and heard countless more stories about girls like Marta. Girls that show incredible bravery and strength, girls that deserve to grow up to be incredible women. In times like these, I can't keep them out of my mind.
There's the 12-year-old girl I met two years ago as she was facing deportation while detained at the Karnes family detention center in Texas. She fled El Salvador with her mother, who had been threatened and raped multiple times by gangs. While detained at Karnes, the girl was sexually assaulted by another detainee. Had they come to the US today, the mom and daughter would be separated. Now, after two years of safety, their asylum claim may be denied because violence at the hands of gangs is no longer a qualifier for asylum.
There are the trans girls and women I met with while in Tijuana, served by our new partner Al Otro Lado, who are all fleeing horrific violence at the hands of gangs because of their gender identity. Each one of them told me they would surely be killed if they were forced to be returned from the countries they fled.
And then there's the story that impacts me the most.
It's the story of my dear friend Angelina* who now lives in Virginia. She was an activist in her native El Salvador, working to protect women and girls from gender-based violence until her father was killed for testifying against gang members and she was nearly beaten to death.
Since arriving in the United States in 2014 and gaining release from a detention center that has since been closed due to its inhumane conditions, Angelina has spoken out in the press, in Congress, and to anyone who will hear her calls for justice for immigrant women and girls like her. Her husband is currently detained and she has not yet had her asylum hearing due to the long backlog in immigration courts. With the change in policy last week, she too faces deportation that would place her life in immediate danger.
Girls deserve equity and freedom from violence. Girls should not be forcibly separated from their parents nor should they face prolonged detention for trying to save their lives. Girls deserve protection and to be free from the fear of deportation that returns them to a constant threat of violence and death.
Global Fund for Children and I stand in solidarity with these girls and will fight with them until they see justice.
*Names changed to protect identity of the individuals.
Header photo: A young beneficiary of GFC partner Centro de Derechos Humanos Fray Matías de Córdova in Tapachula, Mexico. © Global Fund for Children
Global Fund for Children is raising funds to support its network of partners working with migrant kids along the border and in Central America. Donate today to help protect migrant children and youth.