Editor's Note: August 6-8, Global Fund for Children will host Uniting Borders for Migrant Girls and Adolescents, a convening of more than two dozen organizations working to protect migrants and asylum seekers. Ahead of the big event, GFC's Rodrigo Alonso Barraza García gives an in-depth look at the challenges facing migrant girls and the need to unite supporters along their journey—from Guatemala to Mexico to the United States.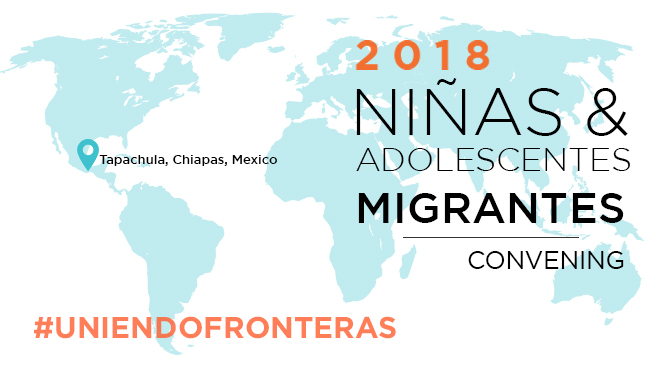 Q: Before we learn more about next week's big event, can you give us some background on the topic? Why migrants, and why the specific focus on migrant girls?
Rodrigo: Girls are, in my opinion, the most vulnerable population in the migration universe. First of all, they flee their communities because of gender inequalities and gender-based violence.  For many of these girls, migration is their only escape.
But once a girl migrates, she suffers a lot of new violence along the way. In their home communities, girls don't have any opportunities to grow. But then in transit they suffer sexual abuse, sexual exploitation, kidnapping; and then once they reach their destination, they continue to suffer from discrimination and violence. And if they return to their communities, they are not accepted. It's a never-ending cycle for them.
That is the hardest thing … for a girl, the action of migrating is an empowering experience, but at the same time it activates a lot of other incidents of violence, all of them gender-based.
Q: Tell us about Tapachula, where the convening will take place.
Rodrigo: Tapachula is right on the border with Guatemala. A lot of international organizations are there right now because in this moment we are having a refugee and asylum seeker crisis. Thousands and thousands of people from El Salvador, Honduras, and Guatemala are crossing the border, not in the classical sense of chasing the American dream in search of better jobs—they are escaping from violence. They are saying "I have to migrate because otherwise I'm going to die. I have to run."
This is different from the migration dynamics in the past. In the past you had poor people preparing to migrate over months and years—they did research, they saved money, took on debts. They knew they were going to migrate in the future. Now we are seeing people—from all socioeconomic backgrounds—who are receiving gang threats and they drop everything and leave in one day, with no money, no preparation.
The emotional impacts of migration are bigger, stronger, deeper. People are experiencing a lot of violence in their countries but at the same time, they don't want to go. They have to become asylum seekers but they don't know the procedures. It's very difficult.
We need to start thinking of Tapachula as a humanitarian corridor for migrants and asylum seekers, because you see people fleeing violence all the time. In the beginning they were only from Central America, but people are coming from all over the world.
Q: What are GFC's grassroots partners and other organizations currently doing to help migrants and asylum seekers?
Rodrigo: Migration a very complex issue with different perspectives. We can't look at this issue and all agree, "Okay, this is one distinct problem and here is the solution." It's not that easy.
Because this is such a complex issue, you have different efforts with different approaches; you don't have this one perfect organization that does everything. You have organizations that specialize in legal assistance for detainees. You have other organizations that are empowering migrant youth or helping to preserve indigenous cultures. Others are good with federal advocacy.
They are all doing incredible work and the issue is getting a lot of attention—in the US, but also in Mexico with the elections, and in Guatemala as well, especially with the tragedy of a 20-year-old Guatemalan woman who was killed by border patrol in Texas. This is a big moment, but most organizations are leading very individual, isolated responses. That's why this initiative is all about making connections and building collective efforts.
Q: Tell us more about why you're bringing these organizations together.
Rodrigo: First of all, just to have these organizations know about each other is huge. You see these very new collective efforts in the South, you see attempts to organize in the North, but they are disconnected.
That's why the convening is called Uniting Borders—because organizations in Guatemala and southern Mexico do not know what's happening in Tijuana, Los Angeles, and Houston. We want to give them a direct line to each other, so they can see the whole picture. We need to understand what is happening with these girls. So to connect these organizations—using very practical, day-to-day communication—is a huge goal.
The second major goal is to build transnational efforts. We want to build collective advocacy and a transnational media campaign. Sharing tools and protocols can be very powerful.
This is going to be an experiment for us. The focus on advocacy and the emphasis on collective impact is very new for the Global Fund for Children.
Q: NoVo Foundation is a major funder of this initiative. Are they involved in other ways?
Rodrigo: We have a very good partnership with NoVo Foundation. They are in a learning process, too—they don't try to dictate what needs to happen. They want to be informed and keep us accountable, but I really feel like we are all in a learning stage, working together as this project evolves. They are hoping to attend the convening; I believe this will be their first time in Tapachula, which I think will be a profound experience for them.
Q: How are GFC's grassroots partners feeling ahead of the convening?
Rodrigo: They are feeling excited and curious with a lot of questions. We've worked hard to plan these sessions with a fresh approach—we want to promote dialogue, to create dynamic spaces, we want people to have fun, to know the field and to know Tapachula. When we told Nicole  [Nicole Ramos, Refugee Program Director at Al Otro Lado]  that we were going to have this convening in Tapachula, she started to dance. They are all excited to connect the work, the borders, the context, the people.
About Rodrigo
Rodrigo Barraza, Program Officer for the Americas team, has extensive professional experience with migrant children and women in Mexico's southern border region. He has worked for organizations such as the Human Rights Center Fray Matías de Córdova and Mesoamerican Voices, where he was responsible for the Migrant Children and Youth program. Rodrigo holds a PhD in gender studies and a master's degree in applied anthropology from the University of Salamanca (Spain), along with a master's degree in international cooperation from the National University of San Martin (Argentina). A native Spanish speaker, he is also fluent in English.
Header photo: This image of the US/Mexico border was captured on a visit to Espacio Migrante, a GFC partner in Tijuana, Mexico, that is committed to empowering migrant communities, improving their quality of life, conducting research about migration, and building awareness in border communities.