"The best spokespersons and representatives for young people are themselves. We need to involve them directly in the actions that will impact their future. Nothing for young people without young people."
— H.E. Mrs. María Fernanda Espinosa Garcés, President of the 73rd Session of the UN General Assembly during the 2019 International Dialogue on Migration
Increasingly around the world, young people facing adversity and dreaming of better opportunities are making the difficult decision to migrate. They make these journeys at a time of immense psychological, emotional, and physical development, often face extreme vulnerabilities, and demonstrate resilience and resourcefulness in rebuilding their lives. Only young migrants can truly speak to this unique experience. Their voices must be heard to help decide which migration policies and programs really matter.
Every year the International Organization for Migration gathers country representatives, United Nations agencies, and civil society organizations to address the challenges and opportunities that migration presents. The 2019 International Dialogue on Migration (#ForMigration #IDM2019) tackled the theme of engaging youth as key partners in migration governance, asking critical questions about what we know about young migrants and how to include them in policymaking.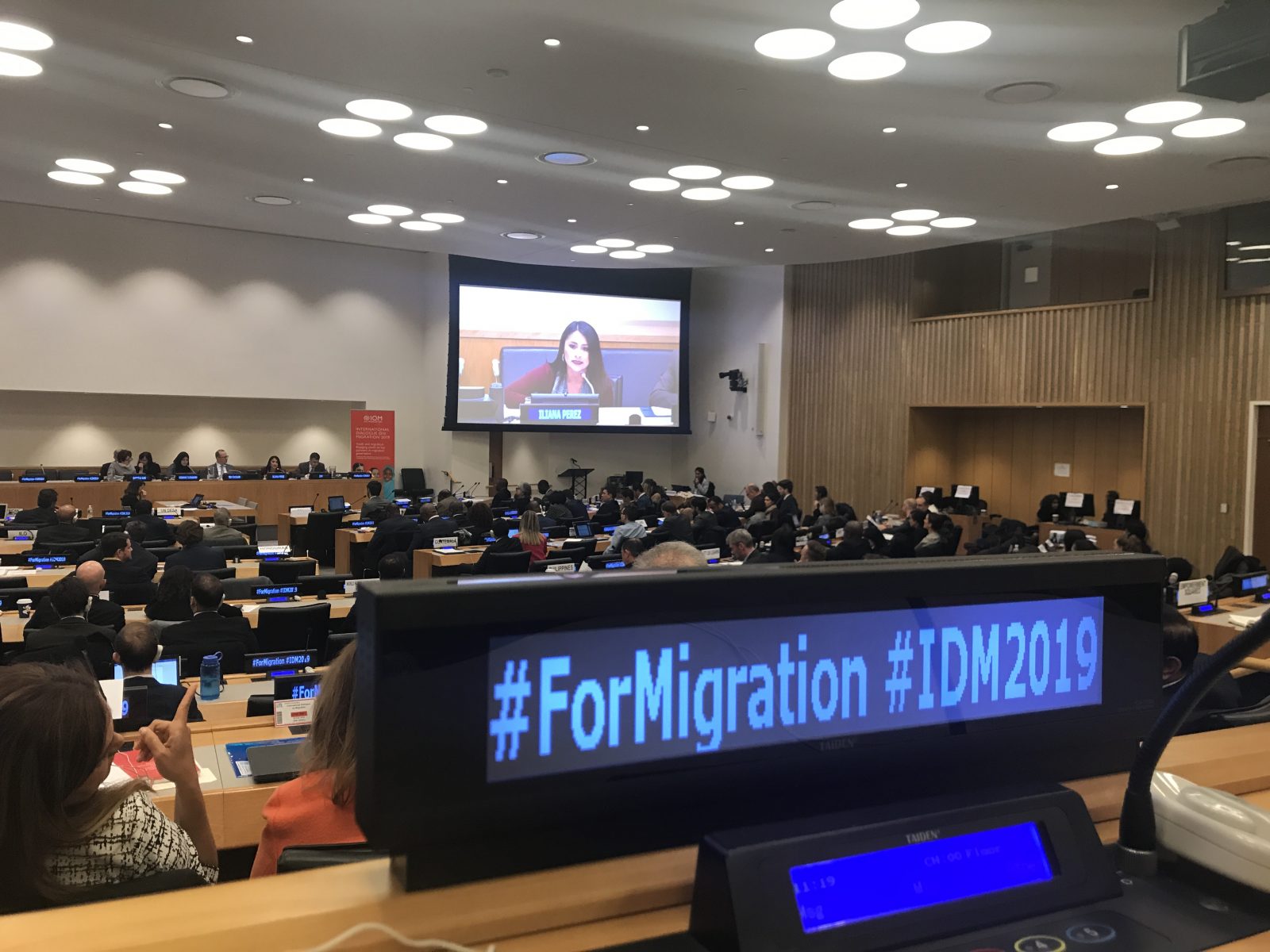 As Global Fund for Children's Program Officer for Advocacy and Movement Building, I was there in New York at the United Nations Headquarters to join the conversation and share lessons learned from our Adolescent Girls in Migration Project that partners with grassroots organizations in Guatemala, Mexico, and the U.S. border responding to the migration crisis.
What We Know About Young Migrants
In 2017, 11% of the world's 258 million migrants were between the ages of 15 and 24.  Many of these youth migrated on their own with no assistance. According to a UNICEF online poll conducted in 2018 with 4,000 refugees and migrants between the ages of 14 to 24, 44% left their countries alone and 38% received no help from family or friends. Forty-nine percent reported not seeing a doctor when they needed one and 38% shared that they did not receive assistance from institutions.
During the Youth Forum hosted at the recent Global Migration Week in Marrakech, Morocco, in December 2018, the United Nations Major Group for Children and Youth (UNMGCY) consulted with over 400 young migrants from around the world. Roxanne Tajbakhsh, UNMGCY's Global Focal Point on Migration, shared that their top priorities included employment and decent work, quality education and transnational recognition of school degrees, combating youth exploitation, and addressing migration drivers like disaster and climate change.
Throughout the International Dialogue on Migration, speakers celebrated the contributions of migrant youth and their greater potential if governments took action. As the United Nations Secretary General's Envoy on Youth Jayathma Wickramanayake stated in her opening remarks, young migrants have enormous potential to contribute to the international response and help build solutions for their communities with their multilingualism, cross-cultural skills, technological expertise, and motivation to engage.
Young Migrants Deciding What Matters
It is critical that countries of origin, transit, destination, and return engage youth to tackle the adversities forcing young people to flee their homes, the vulnerabilities they face in transit, and the challenges preventing them from thriving in their new communities.
The International Dialogue on Migration generated many recommendations to strengthen the development of youth-specific policies and youth engagement.  Here are four key takeaways:
Develop meaningful and inclusive ways to engage young migrants.
Youth must meaningfully participate in the development, implementation, and evaluation of national and regional policies. These spaces must be inclusive, safe spaces that integrate marginalized young migrants, such as those from LGBTQ, indigenous, and ethnic minority communities.
Create gender-specific responses to migration challenges.
It is important to understand the gender-specific drivers of migration and design policies and services that meet gender-specific needs. For instance, young migrant girls and LGBTQ youth face increased risks and vulnerabilities with many experiencing violence. As some migrant girls become mothers, they further face difficulties in birth registration and passing on nationality. Effective migration policies will use data disaggregated by gender and age and generate inclusive responses reflective of young migrants' unique intersecting identities and experiences.
Foster holistic transnational responses.
Migration is not just the story of transit; it includes when migrants arrive in a new community and when they must return to their country of origin.  Responses should recognize the fluidity of human mobility and young migrants' holistic experience at school, work, and accessing healthcare, including for mental and emotional health.  Governments and civil society must work together across borders to develop shared principles and operating procedures to ensure that migration is safe for all children and youth.
Invest in the capacity development of youth organizations.
Young migrants are organizing to create opportunities where few exist. They are creating programs to support their peers and launching campaigns to advocate for their communities. They are carving pathways to higher education, employment, and entrepreneurship.  It is important to amplify these youth voices with concrete support to engage in their local communities and at the national, regional, and international levels.  Local youth in destination countries can also play an important role in welcoming newcomers.
Global Fund for Children calls upon country governments and intergovernmental organizations to collaborate with civil society to put young migrants at the center of policymaking. Without effective responses to the global migration crisis, there are grave long-term consequences as millions of young people risk losing quality education, employment, healthcare, and community connectedness. Authentic and meaningful engagement is a critical first step in empowering children and youth to be part of creative and impactful solutions advancing their rights and sustainable development.
Header photo: Youth playfully posing for a photo during a Transnational Meeting of Migrant Youth in Chiapas, Mexico.