Since she was a child, Asra Ahmad has known she wants to make a difference in the world. Here's how her calling to help people live healthier lives led her to an internship at GFC.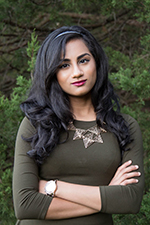 I have known from a very young age that I wanted to make a difference in the world. As a child, I would often travel back to Pakistan to visit family and notice societal inequities, especially among youth. There were children who lacked basic healthcare and had to give up their education to sell textile elastic in the busy street markets. I wondered why kids my age could not go to school or see the doctor like I could.
My solution? I was going to become a doctor and travel to Pakistan to help these kids. I thought this was the best way to help others ensure access to healthcare and have a right to live a healthier life.
After my first year of college, I came to the conclusion that I could make a positive impact on the world without becoming a medical professional – although I respect and am grateful for the work they do every single day. The work of our doctors, nurses, paramedics, and support staff is immeasurable, but not what I found my calling to be.
Everything I had been wanting to do ­– helping others live healthier lives in their communities – was public health, but I did not know that just yet. Once I made the change from pursing the medical field to public health, I was able to better understand how the global community could tackle health and human rights issues at broader scale. The United Nation's 17 Sustainable Development Goals (SDGs) provide "a shared blueprint for peace and prosperity for people and the planet, now and into the future." Goals include eliminating poverty, achieving gender equality, advancing health and wellbeing, and promoting peace and justice. The SDGs develop global cooperation among governments, nongovernmental organizations, and private industry.
Understanding the UN SDGs motivated me to pursue global health – public health in the international arena. With my mind made up, I graduated with my Bachelor's in Global and Community Health in 2017. After taking several internships in school, I decided to continue on with my Masters of Public Health, concentrating in public health communication.
The classroom taught us to how to do research, how to write literature reviews, and how to apply public health to the world around us. We have learned to consider key stakeholders ­– like governments, medical systems, and public health policy makers – in the fight for social justice. However, we seldom recognize the impact of public health in the philanthropic space. The nonprofit sector can create meaningful change, contribute new ideas, and foster creative collaboration for the common good.
The possibility of grassroots change to big world problems is what excites me about nonprofits' involvement to bettering global health.
I knew I wanted to continue to make an impact, not only in my own community, but also in the global community as a whole. I wanted to use what I had learned in school and previous internship experiences to create an impact globally. When I saw the opportunity to join Global Fund for Children, I was excited at the prospect of creating change on an international level. The work GFC does to support local, grassroots organizations serving their communities is immeasurable and something I wanted to be a part of.
I joined the Marketing and Communications team in January 2020 and have learned so much since coming to GFC. My time at GFC has been exciting: every day is a new opportunity to challenge myself to think outside the box. There is meaningful impact in the work we do. In February, GFC co-hosted the "Gender, Childhood, and Youth on the Move" convening in Tijuana, Mexico. The meeting focused on empowering migrant children and youth at the US-Mexico border. It was a moment of social justice and public health joining forces with the nonprofit sector to encourage the health and wellbeing of those often forgotten about – and discriminated against – by our world's politics.
The COVID-19 pandemic has reinforced the importance of cross-sector collaboration between public health and nonprofit organizations. Public health can be done in a variety of settings: local health departments, universities, and even on the global stage. Organizations like GFC, who work directly with on-the-ground partners, are supporting the health and wellbeing of children around the world by ensuring access to education, healthcare, and human rights.