Meet Karen! Karen promotes safeguarding practices through collaboration and learning
Meet Karen Walker-Simpson! Karen leads the Funder Safeguarding Collaborative, which promotes greater collaboration and learning among funding agencies to strengthen safeguarding practices.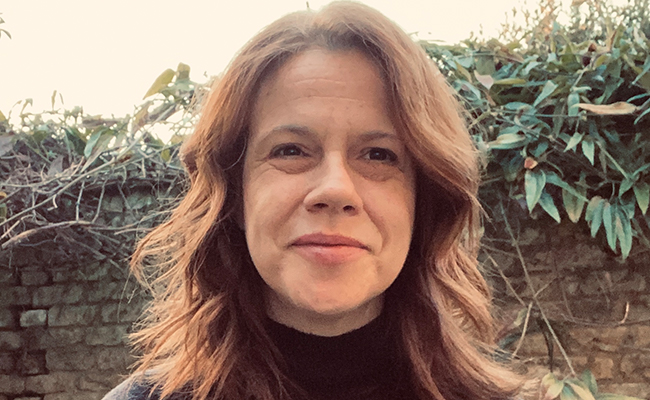 KAREN, CAN YOU TELL US ABOUT WHERE YOU'RE FROM AND ABOUT YOUR BACKGROUND?
I was born in Scotland, but moved to England when I was five. On arriving in England, I quickly had to lose my Scottish accent as everyone at school thought I was speaking a foreign language. Although I sound English, my heart is Scottish. I even have a gold medal in Scottish dancing to prove it!
WHAT'S YOUR FAVORITE CHILDHOOD MEMORY?
I was very lucky to grow up in the countryside. We would spend hours building dens in the forest near my house or playing in "grandma's river," which ran along the bottom of our family garden. I now live in London and when I look back, I feel incredibly grateful for growing up with so much freedom and space to enjoy nature.
WHAT DREW YOU TO THIS LINE OF WORK, AND TO GFC?
When I was at university, I did a summer camp working with children from Romanian orphanages and trying to break down the stigma that they faced. I knew immediately that this is what I wanted to do for a career and moved to Romania after I graduated. I have worked with children ever since.
I have been working alongside members of the GFC team for a few years now. I've always been impressed with how passionate everyone is, and how they genuinely support each other. However, most importantly, [I've been impressed with] how GFC values and celebrates the work of its partners.
WHAT DO YOU THINK WILL BE THE MOST CHALLENGING PART OF YOUR JOB? WHAT WILL BE THE MOST SATISFYING?
As with so many things in life, the most challenging and most satisfying parts of my job are two sides of the same coin.
I love the fact that the GFC team is scattered all over the world and that I will have the opportunity to learn from such diverse experiences and perspectives. As part of the Funder Safeguarding Collaborative, I will also have the opportunity to meet and collaborate with funders, NGOs, and other incredible individuals from across the globe. I feel privileged to have that opportunity.
On the downside, I know that there are many people that I will never get to meet in person and so many organizations that I will never be able to visit. Our digital connections are incredible, but there is no substitute for human contact.
WHY DO YOU BELIEVE GFC'S WORK IS IMPORTANT?
There are so many grassroots organizations out there who do incredible work, but are too small or too remote for many mainstream funders to support. Without these organizations, there are so many children and young people who would never get the help or opportunities they deserve. GFC's commitment to identifying and supporting these organizations not only means that this work can continue, but that it can grow and make a real difference where it matters most.
#FunFacts About Karen
WHAT WAS YOUR FAVORITE TOY GROWING UP?
I grew up in the '80s, so it has to be the Rubik's Cube.
WHAT DID YOU WANT TO BE WHEN YOU GREW UP?
I wanted to be an astronaut. If they ever do affordable flights to the moon – I'm in.
WHAT'S THE WEIRDEST THING YOU'VE EVER EATEN?
Like Kyra, I also tried hormigas culonas (large roasted ants) whilst in Colombia. There was a restaurant which included the ants in all their recipes – I had roast chicken with a creamy ant sauce. It was delicious!
DO YOU HAVE A PET PEEVE?
People chewing gum really loudly.
IF YOU COULD HAVE ANY SUPERPOWER, WHAT WOULD IT BE?
The ability to fly. I could visit all the incredible people and places I hear about every day, but without the airport queues or the jet lag.