The Power of Giving Tuesday
This Giving Tuesday offers a world of opportunities to help children. Join GFC staff, partners, and supporters across the globe to make it the best ever!
Giving Tuesday is a day that gives you power. The power to send a little girl to school in Uganda, give refugee children a safe place to play in Serbia, or protect kids from threats like trafficking in Cambodia. Your donation to The Global Fund for Children has the power to transform a child's life around the world.
This year, we're powering up local community activities and outreach from all corners of the globe – including activities you can do from your very own desk, like the popular Giving Tuesday #UNselfie (instructions below).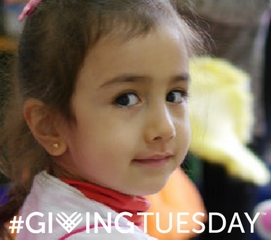 Choose as many of these activities as you want to help spread the word and show you care for children who need it most:
1. Read/share extraordinary child stories of what the world looks like through the eyes of a child, like 6-year-old Flona, who saw only war and violence when her family fled Syria when ISIS took control of their city.
Bringing only what they could carry, they traveled to Lebanon to find safety and a new beginning. There, The Global Fund for Children's local partner, Tahaddi, provided Flona and her family relief supplies, food vouchers, healthcare, and counseling to recover from the traumatic journey. Today, Flona's world looks bright, safe, and promising. SHARE #FlonaStory. Read other stories here.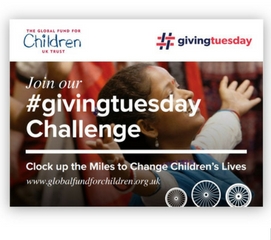 2. Clock up the Miles for Children!
"Clock up the miles" in a UK world event, by logging your cycling, your spinning, wheel-chairing, or wheelie-ing distance (all wheels welcomed!) for a global GFC goal of 18,000 miles in 24 hours. Our UK members are hosting this fun, exhilarating activity. Read more.
3. Take an UNselfie!
This digital #GivingTuesday tradition is back! Share your #UNselfie in your social media circles and give us a shout out on Twitter/@GFCNews or Facebook/@GlobalFundforChildren. For easy steps and a printable #UNselfie template, see below.
No matter what you choose, please pitch in as generously as you can to help fuel the extraordinary grassroots partners GFC supports around the globe that are mobilizing help and hope deep in the communities where children need it most — in refugee camps, slums, and many underserved communities.