Meet Nina, GFC's new Thailand Partnerships Catalyst
Meet Wanwarin (Nina) Yensuk! As Thailand Partnerships Catalyst on GFC's Asia team, Nina builds relationships and fosters strong communication with GFC's Thailand partners through participatory learning, capacity building, and grantmaking.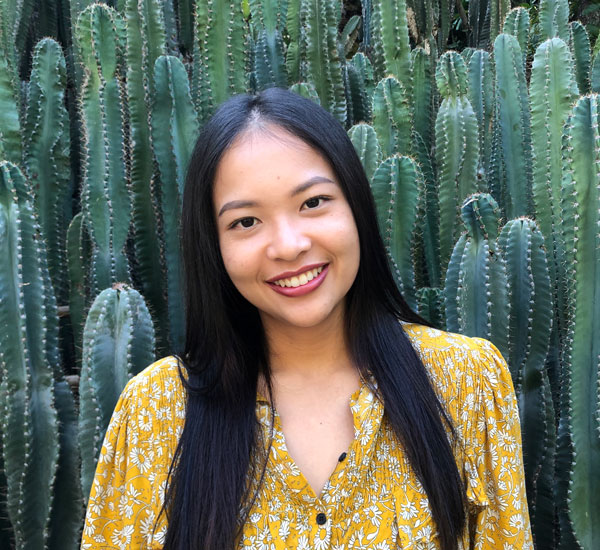 CAN YOU TELL US ABOUT WHERE YOU'RE FROM AND ABOUT YOUR BACKGROUND?
I was born and raised in Chiang Mai, Thailand. I have traveled around and studied abroad in different countries. I love to exercise, hike, paint, and take new classes to expand my interests. I have a bachelor's degree in English communication and a master's degree in gender and international relations.
WHAT'S YOUR FAVORITE CHILDHOOD MEMORY?
When I was young, I traveled all the time in Thailand and abroad. My favorite memories are from when I visited Phuket, Thailand, with my grandparents. We would go to Patong Beach, and I would get to run around and play there. I remember that I loved to get my hair braided at that beach. It came out so beautifully and every time I visited Phuket, I tried to get my hair braided.
WHAT DREW YOU TO THIS LINE OF WORK AND TO GFC?
My life and career goal is to end human trafficking and modern slavery. During one of my classes in my undergraduate degree, Dr. Christa Crawford, my lecturer, put on a documentary about enslaved people on fishing boats in Thailand. The documentary interviewed an enslaved person and that person faced inhumane treatment and it led him to think that the trafficker treated him that way because he was worthless. He said, "A fish has more value than we do. We are less than human." The documentary and that line resonated with me, and I thought to myself that I never want any human being to feel or think that way again. After that, I started to volunteer at anti-trafficking NGOs and got into development work. After being in the development sector for four years, I see the importance of protecting children and the impact these issues can have on them. I was drawn to GFC's values and working model and I wanted to be a part of GFC to make a greater impact.
WHAT DO YOU THINK WILL BE THE MOST CHALLENGING PART OF YOUR JOB? WHAT WILL BE THE MOST SATISFYING?
I think the most challenging part will be working with colleagues in different time zones. I'm based in Thailand and some of my meetings will be at night. With time management and organization, this challenge can be managed. For me, the most satisfying part will be working with GFC's Thailand partners and seeing their organizations grow. I am looking forward to seeing the impacts GFC's Thailand partners make and the sustainable change they create.
WHY DO YOU BELIEVE GFC'S WORK IS IMPORTANT?
GFC supports and works with grassroots organizations. I think that in itself is very important because changes happen at the local level. GFC also ensures that children and youth are protected and empowered.
#FunFacts About Nina
WHAT WAS YOUR FAVORITE TOY GROWING UP?
I used to love cut-out paper dolls. I would dress them up and play with them. I do not know if they still make those today.
WHAT DID YOU WANT TO BE WHEN YOU GREW UP?
Until I was 15 years old, I wanted to be a scientist or an astronomer. I thought it would be so cool to do experiments or observe the stars and planets.
WHAT DO YOU DO FOR FUN?
I love to exercise, hike, paint, and take new classes to expand my interests. In Chiang Mai, there are classes such as learning how to make macaroons, craft cola, and soy candles. I love to take those classes to learn about new things and expand my hobbies.
DO YOU HAVE ANY PETS?
I have dogs. When I tell people how many dogs I have, they are shocked. Right now, I have nine dogs and I am getting another one at the end of August. Most of them are Thai dogs that were abandoned, and my mom and I love to adopt them. I also have one beagle named Bella.
IF YOU COULD HAVE ANY SUPERPOWER, WHAT WOULD IT BE? 
Flying would be nice. I would love to fly around and see how it feels (although I am afraid of heights).