Meet Jalixa, GFC's new Marketing and Communications Intern
Meet Jalixa Mancebo! Jalixa supports GFC's Marketing and Communications team and plays an important role in shaping GFC's social media presence.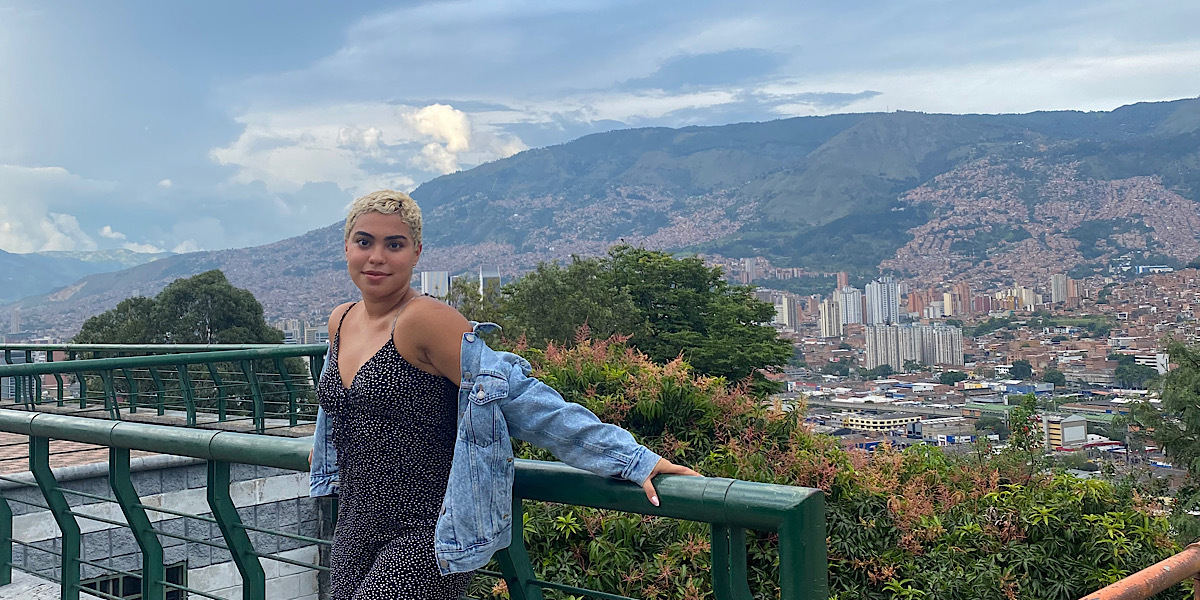 JALIXA, CAN YOU TELL US ABOUT WHERE YOU'RE FROM AND ABOUT YOUR BACKGROUND?
As a child, I moved around a lot, even spending a few years in the Dominican Republic before my family stabilized in Bergenfield, New Jersey. The town itself is a small and quiet suburb located in northern Jersey. I attended elementary, middle, and high school there and I was priviledged enough to be surrounded by various cultures, perspectives, people, and ideas during all those years. Now, as a college student, I attend Rutgers University in Newark for a business degree, and I love to spend my free time with friends and family, reading, and travelling.
WHAT'S YOUR FAVORITE CHILDHOOD MEMORY?
My favorite memories always trace back to my wild and imaginative moments. I remember when I was very young, I went on a trip to the Dominican Republic for a destination wedding. Almost my entire family on my mom's side gathered together at a resort where we spent days swimming and celebrating together. Every time we went to the beach, I would pretend to be on a deserted island soaking up the sun or would perform dances and plays for my family. I always think fondly about that weekend and how memorable it was even as a child.
WHAT DREW YOU TO THIS LINE OF WORK, AND TO GFC?
I have always been very passionate about philanthropy, service, and making a change. I love to volunteer, raise awareness, and be an advocate for those who are silenced and ignored. Therefore, when the opportunity to combine marketing and public service presented itself, I knew right away I wanted to pursue the internship within the marketing team for GFC. Being able to help give voice and a presence to an organization that seeks to help children on a global scale is not only a privilege, but too good to miss out on.
WHAT DO YOU THINK WILL BE THE MOST CHALLENGING PART OF YOUR INTERNSHIP? WHAT WILL BE THE MOST SATISFYING?
The most challenging aspect will definitely be not overdoing it. I'm really excited to learn and help out, so I just have to be mindful of balancing my capabilities and time. Of course, that'll be hard because I am interested in the many projects and skills there are to learn in such a short time.
I think the most satisifying part will be knowing that I was able to be part of a team that's doing such amazing work within such a service-oriented nonprofit. Also, the satisfaction of learning and growing from this experience is like no other.
WHY DO YOU BELIEVE GFC'S WORK IS IMPORTANT?
I believe GFC's work is important because it's necessary to have an organization passionate about helping one of the most vulnerable groups in society – the youth. GFC's ability to find partners that have the potential to help within their local communities and then funding, strengthening, and networking with them is inspirational. GFC proves that assuring a child's life, safety, and future is the ultimate drive.
#FunFacts About Jalixa
WHAT WAS YOUR FAVORITE TOY GROWING UP?
I loved to play pretend when I was growing up! This means that I didn't have a favorite toy; instead, I used whatever I had available and made it into something great. What I was most fond of was my environment. I loved to create worlds to play in, so nature was always a great source of inspiration.
WHAT DID YOU WANT TO BE WHEN YOU GREW UP?
I wanted to be everything under the moon, sun, and stars. That included an actress, a psychiatrist, an author, a hairdresser, a doctor, a dancer, and so on!
WHAT'S THE WEIRDEST THING YOU'VE EVER EATEN?
I have eaten chicken feet as well as the edible lining of a cow's stomach, which is called "mondongo," or tripe in English. I don't consider it weird because it is a cultural norm for me, but I do understand that it's definitely weird for others. I also once tried roasted larva during a cultural tasting of foods from all over the world, which was definitely as weird as it's gotten.
DO YOU HAVE A PET PEEVE?
I cannot stand hearing people chew! I am usually a very calm and cool-headed person, but something about that noise completely irks me.
(I also really dislike when people are unkind for no particuolar reason.)
IF YOU COULD HAVE ANY SUPERPOWER, WHAT WOULD IT BE?
Power replication. I can't decide on one, so why not have them all – assuming there are others with powers as well, of course.