Meet Becca, GFC's new Development Associate
Meet Becca Rubenstein, the newest member of GFC's development team! She supports the cultivation and stewardship of individual donors.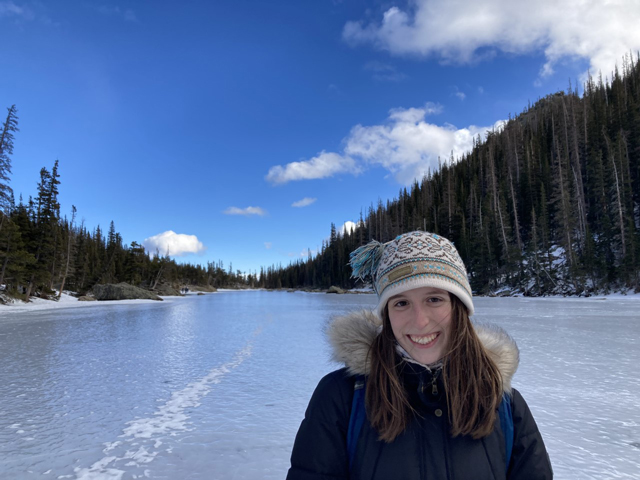 CAN YOU TELL US ABOUT WHERE YOU'RE FROM AND ABOUT YOUR BACKGROUND?
I grew up in a small town in the suburbs of New York City. I was raised to have an interest in and respect for different cultures and their histories, which led me to adore my French language courses. When I attended university, I decided to continue with my French studies and eventually became a teaching assistant for the introductory courses. To pair with my French minor, I studied international business and marketing.
WHAT'S YOUR FAVORITE CHILDHOOD MEMORY?
From the ages of 9 through 15, I spent my summers at a secluded sleepaway camp in Maine. Each summer was filled with hiking and canoeing trips, arts activities, and leadership opportunities as I aged up. Throughout the years, I became much more independent, confident in myself, and appreciative of the little things in my life.
WHAT DREW YOU TO THIS LINE OF WORK AND TO GFC?
From a young age, I have always loved to volunteer for different causes and to help others. As I continued through school, my skill set allowed me to assist organizations in a different way. Through an incredible international development course, I learned more about how responsible engagement can spark sustainable growth around the world. When looking for an organization that empowered its partners to be changemakers in their communities, I was lucky enough to find GFC!
WHAT DO YOU THINK WILL BE THE MOST CHALLENGING PART OF YOUR JOB? WHAT WILL BE THE MOST SATISFYING?
I am most looking forward to meeting and working with incredible people, between the GFC team, partners, and donors. I always love to learn about backgrounds and perspectives different from my own. I think working in such a global environment will be a challenge but it is one I am looking forward to.
WHY DO YOU BELIEVE GFC'S WORK IS IMPORTANT?
I think that GFC's work is important because of the organization's clear care and consideration for its partners in each conversation and decision. Because of this partner-first mentality, the organization can transfer the proper resources to people who will make a huge impact in their community.
#FunFacts About Becca
WHAT WAS YOUR FAVORITE TOY GROWING UP?
My favorite toy growing up was an arts and crafts toy called Wikki Stix. They were basically string covered in wax so that you could create different designs and shapes with the sticks. I would play with them everywhere and try to keep all my designs.
WHAT DID YOU WANT TO BE WHEN YOU GREW UP?
When I was younger, I had a plan to go to culinary school and then business school so that I could open my own bakery. I still love to bake and cook, but I know now that I am not nearly skilled enough to be a professional baker.
WHAT DO YOU DO FOR FUN?
I love to be active and mostly that includes going for runs. My 2023 goal is to complete a half-marathon. I also love to read and look forward to a monthly book club with my friends. My favorite genre would have to be historical fiction.
DO YOU HAVE ANY PETS?
I don't now, but I grew up with the sweetest yellow lab named Molly.
IF YOU COULD HAVE ANY SUPERPOWER, WHAT WOULD IT BE?
I don't think it's quite a superpower, but I would love to be able to fall asleep anytime, anywhere.