Meet Ashani, GFC's new Senior Communications and Marketing Specialist
Meet Ashani Ratnayake. As part of the communications team, Ashani contributes to developing and implementing GFC's communication strategy with a particular focus on digital marketing and fundraising campaigns, online communications, and storytelling.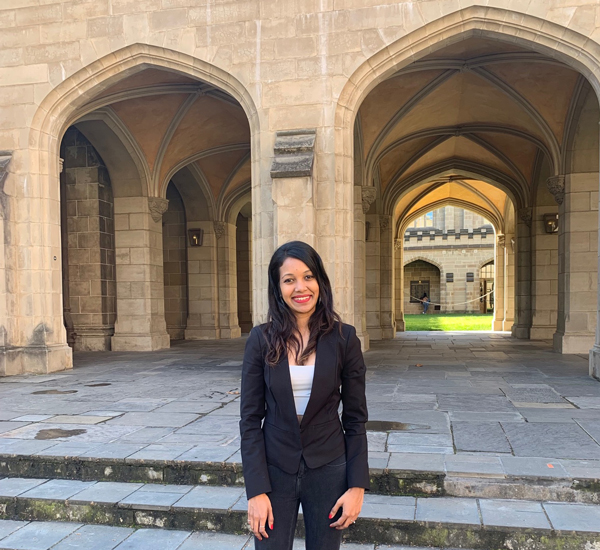 ASHANI, CAN YOU TELL US ABOUT WHERE YOU'RE FROM AND ABOUT YOUR BACKGROUND?
I was born and raised on the beautiful, tropical island of Sri Lanka. I've grown up spending a lot of time at the beach with the feel of warm sand under my toes, swimming in the ocean, and watching sunsets. I moved to Australia for my master's and really enjoyed living there too. I love traveling and exploring new places and find it easy to adapt to different cultures, seasons, and ways of life. Seeing and experiencing new things inspires me to write and be creative. My background is in marketing management – I hold a bachelor's degree in marketing and a master's in management but consider communications to be my true calling.
WHAT'S YOUR FAVORITE CHILDHOOD MEMORY?
As a child or even a teenager, you couldn't find me without a book in my hand, whether it was at home or at a party. Most of my favorite memories revolve around books – devouring the pages of Enid Blyton novels while seated in my garden at home or getting lost in the imagination of Roald Dahl, wishing I had magical powers and abilities like some of the characters. Yet, if I had to pick just one favorite moment, it would be receiving a Harry Potter book every birthday from ages 11 to 18 (the release date of the books almost always coincided with my birthday).
WHAT DREW YOU TO THIS LINE OF WORK AND TO GFC?
I've always felt a pull to do something that would help others, and I started off by volunteering with a few charity organizations in Sri Lanka. When I moved to Australia, I wanted to do more and volunteered frequently with the Salvation Army and the Australian Multicultural Community Services organization, which supports the elderly. I found it very fulfilling – more so than any other work I had done – and decided to change careers after my master's. I wanted to work for organizations that were making a difference in people's lives. From the moment I heard about GFC and its work, I was inspired because GFC's model of funding and supporting community-based organizations tackling important social issues is so unique and its impact far-reaching.
WHAT DO YOU THINK WILL BE THE MOST CHALLENGING PART OF YOUR JOB? WHAT WILL BE THE MOST SATISFYING?
My role entails supporting digital fundraising which I haven't done on such a large scale before, which might be a little bit challenging. Yet, I feel it will be immensely satisfying, especially seeing campaigns perform well and contribute to GFC's work. I'm also very excited about writing stories and talking about all that GFC does for children and youth.
WHY DO YOU BELIEVE GFC'S WORK IS IMPORTANT?
Many organizations across the world advocate for the rights of children and youth, yet I've never come across one like GFC. I believe GFC truly embodies the word "empowerment" by working with nascent community-based organizations, supporting their efforts on the ground with real trust and flexibility, and helping them address many social injustices. Through all of this, GFC champions the rights of young people everywhere and helps create a better world for them.
#FunFacts About Ashani
WHAT WAS YOUR FAVORITE TOY GROWING UP?
I loved Disney cartoons growing up (I still do, really) and so my favorite toy was something called a Polly Pocket – a compact playset of the Aladdin cartoon and its characters. A better description of it would be something that's like a makeup powder compact that houses the castle from Aladdin and miniature figurines.
WHAT DID YOU WANT TO BE WHEN YOU GREW UP?
Probably a rather weird aspiration for a child, but I wanted to be a librarian. I don't think I envisioned myself doing any proper work but just being surrounded by piles and piles of books that I could read on the job, tall bookcases, and sliding ladders.
WHAT'S THE WEIRDEST THING YOU'VE EVER EATEN?
Nothing! I'm a bit of a fussy eater and generally pass on anything that looks "weird" with a shudder.
DO YOU HAVE A PET PEEVE?
People who walk really slowly and aimlessly but won't let anyone else pass them by come to mind. It makes me feel rather impatient.
IF YOU COULD HAVE ANY SUPERPOWER, WHAT WOULD IT BE?
The ability to teleport – to be able to see and be with family, friends, and loved ones in a heartbeat. And also because I get travel-sick sometimes.