Global Fund for Children announces new Board members

Global Fund for Children is pleased to announce the election of three new directors. Marine Abiad and Mark Wilson have been elected to the UK Trust Board of Trustees, and Jaclyn "Jackie" Foroughi has been elected to the Global Board of Directors.
GFC's directors and trustees provide guidance and leadership drawn from a deep body of expertise and knowledge. Their contributions are an integral part of our work supporting community-based organizations advancing the rights and opportunities of children and youth around the world.
"I am excited to welcome Mark, Jackie, and Marine to the GFC Boards. They each offer unique skills and perspectives and care deeply about our mission," said John Hecklinger, President and CEO of Global Fund for Children.
"Mark's experience guiding social sector organizations and passion for our mission make him a key asset to our efforts to support local organizations around the world that protect and improve the lives of children and youth. He continues our long relationship with Goldman Sachs International," John added. "Jackie is passionate about increasing investments that have significant social benefits and being able to demonstrate their impact. She has long been a friend to GFC and it has been a privilege to collaborate with her on her Financial Analysis for Social Impact course at the Stanford Graduate School of Business. Marine has shown so much excitement for GFC's work and has already connected us to allies who wish to empower children, youth, and communities to change the world."
Mark Wilson (London, UK)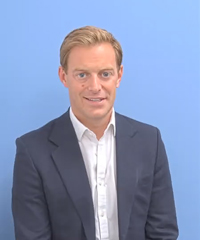 Mark Wilson leads Equity Franchise Sales in Europe, the Middle East, and Africa (EMEA) at Goldman Sachs International. Previously, Mark was Co-Head of One Delta Sales in London and was responsible for hedge fund client coverage coordination across equity products. Prior to that, he was responsible for US Equity Sales in EMEA. He was named Managing Director at Goldman Sachs International in 2010 and Partner in 2020. Mark currently serves on the Invest in Futures Committee for The Prince's Trust. Mark earned a master's degree in modern history at St Edmund Hall, Oxford University.
"The scale and reach of GFC over the last 25 years has been truly phenomenal with over $46 million in cash grants made, deployed to over 700 local partner charities, reaching and impacting over 11 million children," Mark said.
"GFC's approach to enabling truly local charity partners, on the very front line of driving change and impacting outcomes for some of those children and youth most in need, is difficult to achieve at scale," he added. "But seeing GFC's repeated ability to find, fund, and strengthen these grassroots organizations and compound the impact of their incredible work is hugely impressive. I couldn't be more excited to join the team and help, in some small way, progress their mission."
Jaclyn "Jackie" Foroughi (Palo Alto, California, US)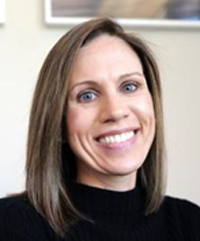 Jaclyn Foroughi is the Co-Founder and Managing Partner of Brazen Impact, LLC, an impact investment fund focused on increasing the amount of capital being invested in places, companies, products, and services that have significant social and environmental benefits. She is also the Founder and CEO of Brazen FINLIT, a nonprofit dedicated to empowering youth and underserved communities through financial literacy and professional mentorship opportunities. Jaclyn has been an active angel investor focused on technology start-ups for over a decade with multiple exits over $100 million.
At Stanford Graduate School of Business (GSB), Jaclyn co-developed and teaches the Financial Analysis for Social Impact course in which students tackle issues related to investment evaluation and performance measurement, as well as analyze the financials of organizations within the fast-growing and rapidly evolving impact investing market. Since joining Stanford GSB in 2013, she has developed over three dozen case studies in the areas of accounting, finance, social innovation, marketing, and strategy. This work has been published and used for pedagogical purposes by universities, professors, and business thought leaders.
Jaclyn has over 20 years of finance and accounting experience, holding buy- and sell-side positions in investment management and investment banking. In addition to finance, she has over a decade of experience contributing to, advising, and advocating for nonprofits. She is a strong advocate in the promotion of balanced students and is focused on character building and lifelong learning.
"I am most excited about joining the Board of Directors at GFC because of the incredible impact that the organization has on not only children around the world but also peer organizations and the philanthropic ecosystem," Jaclyn said. "I have had the privilege of working closely with GFC in our Stanford GSB classroom and connecting with team members across the world. The passion of its professionals is palpable – they care so deeply about empowering children and youth around the world and advocating for their rights. As an impact investor, I am particularly intrigued by the organization's trust-based and venture philanthropy approaches, helping partners develop their capacity while embracing complexity and targeting lasting change."
"People should know that GFC is one of the most thoughtful and self-reflective organizations with whom I have worked. Working with a team of some of the most brilliant students in the world at Stanford GSB can be a daunting undertaking but the GFC team approached our classroom and team projects with open minds and enthusiastic engagement. The GFC team is a curious set – they strive to be consistently better, and they want to have an ever-greater impact. I am so privileged to get to participate in their growth as an organization and impact on lives around the world."
Marine Abiad (Paris, France)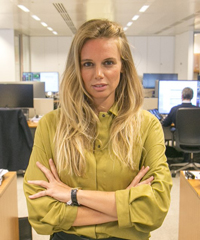 Marine Abiad is Executive Vice President at Goldman Sachs – Head of Distribution France. Previously she worked at BNP Paribas. She received her master's degree from ESCP Business School.
"I am excited to join Global Fund for Children and work with such a strong organization that specializes in identifying, funding, and coaching truly local organizations that empower children and youth," Marine said. "Few other funders are willing to put in the work it takes to help these organizations get to the next level of effectiveness and help them become more sustainable, ultimately leading to improved wellbeing for the children and youth they serve."
GLOBAL BOARD OF DIRECTORS
Shweta Siraj Mehta, Chair
Greg Wallig, Treasurer
Chris Wolz, Secretary
Jennifer Altabef
Mete Coban MBE
Swatee Deepak
Jaclyn Foroughi
John Hecklinger
Nicole Kamaleson
Stacey H. Mitchell
Lila Rymer
Marijana Savic
Maria Vallejo-Nguyen
Mark Wilson
UK TRUST BOARD OF TRUSTEES
Mark Wilson, Chair
Marine Abiad
Michel Antakly
Nicholas Antonas
Mandy DeFilippo
Antoine de Guillenchmidt
John Hecklinger
Manju Lulla