Girls' Education: Best Practices from Grassroots Organizations
An assessment of 20 GFC-supported organizations highlights best practices for helping girls go to school, stay in school, learn, and become change agents.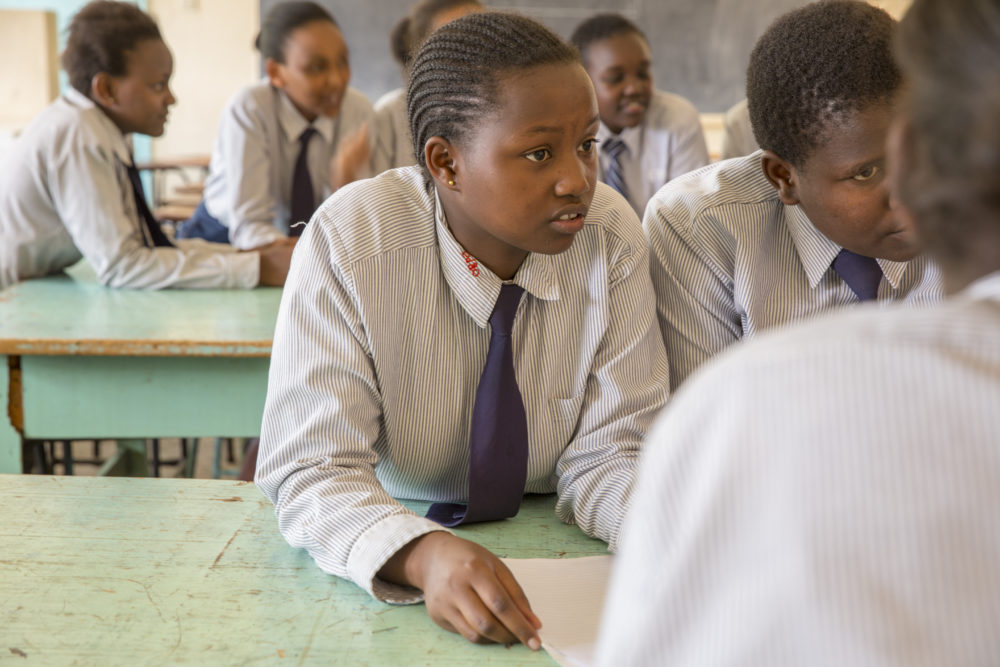 © Kevin Ouma
GFC grassroots partner Akili Dada identifies top-performing girls who are at risk of dropping out of Kenya's public schools, and helps them stay on track through leadership and mentorship programs. 
This article was co-written by Mali Irvin (an independent consultant) and Emmanuel Otoo.
Education is so much more than an opportunity to go to school; it is an opportunity to determine the outcome of one's future, to establish a voice within and outside of one's community, and to dream beyond the limits of one's circumstances. But around the world, too many children—especially girls—are still not getting the quality education they deserve.
According to the World Bank, quality education helps girls find their voice and "speak and be listened to." Educating vulnerable girls in marginalized communities and rural areas also leads to a reduction in child marriage, teen pregnancy, at-risk behaviors, female genital cutting, and violence against women and girls. When girls are educated, cycles of gender bias against girls and women are effectively disrupted. Furthermore, the Global Education Monitoring Report found that when educated girls become mothers, they are more likely to ensure consistent prenatal care, immunization, and medical care for their young children, passing the benefits of education on to the next generation. When girls are educated, they are better equipped to lift up themselves, their families, and their communities.
In light of the high value of girls' education, how can we ensure that girls receive an education? More than that, how can we ensure that girls receive a quality education in a girl-friendly environment, develop their own voice, are consistently engaged, and feel safe from harm? At the grassroots level, which practices are transformative in girls' education, and which deserve our full exploration and dedication?
Effective Programs at the Local Level
To achieve the United Nations' Sustainable Development Goal 4—to "ensure inclusive and equitable quality education and promote lifelong learning opportunities for all"—holistic, transformative, and gender-sensitive approaches are critical.
Grassroots education strategies that are woven into the fabric of communities and that facilitate self-sustainable development demonstrate best practices when it comes to reaching the most vulnerable girls and ensuring retention and successful programs. The Global Fund for Children's grassroots partners are challenging gender bias and discrimination and are establishing creative, girl-friendly environments that prioritize girls' social and emotional development. (For example: in Kenya, Shining Hope for Communities' boarding schools in Kibera and Maathare have a 98% attendance rate, and 98% of the girls who participate in Girls Leading Our World's programs transition to secondary school.)
As important members of civil society, grassroots leaders have a unique opportunity to lead new pedagogy. This blog post shares some lessons from an assessment of 20 GFC-supported grassroots organizations that focus on girls' quality education, highlighting best practices in the areas of access to education, educational quality, retention, transition, and academic performance.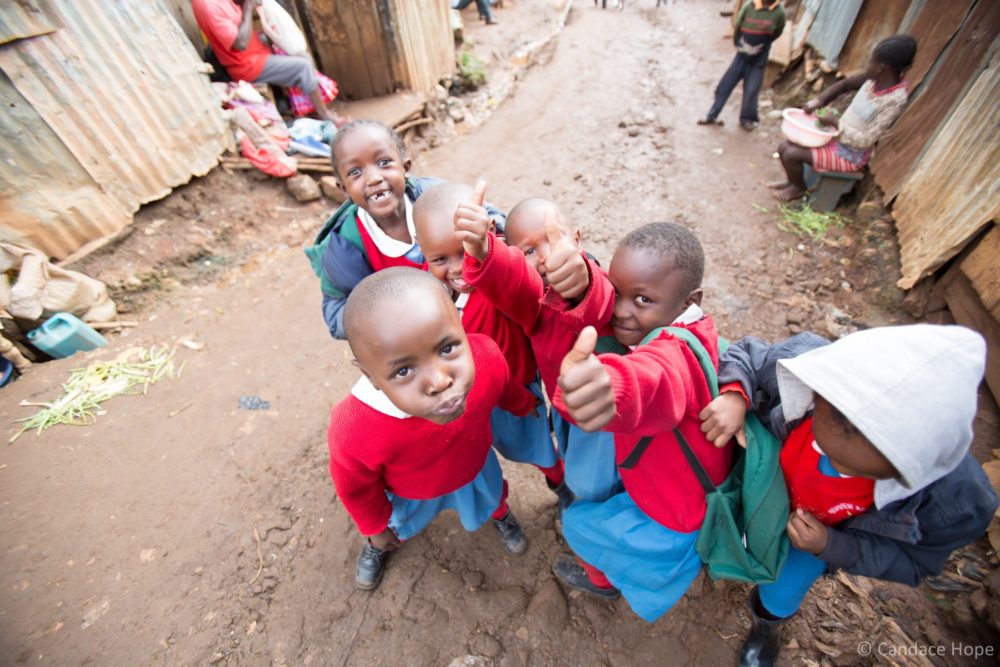 © Candace Hope
Working in Nairobi's Kibera slum, Shining Hope for Communities runs community development programs alongside its girls' education and health initiatives.
Access to Education
Building awareness on the importance of girls' education is an inclusive strategy approach that GFC grassroots partners utilize to sensitize communities and counteract misinformation, illiteracy, and gender bias. In the assessment exercises, a deep gender bias against girls, especially in rural areas, was identified as one of the greatest barriers to the success of girls' education programs. Grassroots leaders know that when communities begin to appreciate the value of girls' education, they work to ensure the retention of girls in school and assist them to learn, rather than being opposed to their education.
GFC partners therefore work with families through frequent community-awareness-raising forums, home and school visits, and door-to-door campaigns. Some partners in Kenya and Ghana count on former girl program participants to help raise awareness and demonstrate the success of their programs. The most effective efforts to address social and cultural barriers to education usually involve boys and men, families, community leaders, faith-based organizations, and the local private sector to ensure that girls are given equal opportunities to access education.
Reducing the financial cost of schooling is also critical in removing some of the barriers girls face to accessing education. All GFC-assisted girls' education programs provide free school kits or learning materials (uniforms, writing implements, backpacks, etc.), and some pay registration fees for secondary school, since this has proved to be effective in helping girls to remain in school.
Promoting Quality Education
What constitutes a quality education? Encouraging girls' creative, social, and emotional development is one essential component. To engage girls—and their parents and communities—in their education, GFC grassroots partners' education programs place considerable emphasis on providing a stimulating, girl-friendly, fun environment both at school and at home.
Effective programs are using a variety of program approaches to meet the needs of the girls they serve: grassroots organizations use tailored life skills, leadership, and mentorship programs to facilitate quality learning. Many programs also integrate role modeling and sexual and reproductive health awareness strategies to provide holistic education. To promote learning, some grassroots organizations have set up frameworks that encourage peer academic support or that create an opportunity for girls in more-advanced classes to support those in less-advanced classes in their academic work. CEE-HOPE, a GFC grassroots partner in Nigeria, has been very successful with this peer-tutor approach.
Supporting teachers is crucial to providing a quality education. In some areas where GFC partners work, teachers are publicly recognized by the community to encourage them to stay in the community to teach. Most of the organizations use parent-teacher associations and school management committees as vehicles to ensure that the schools are running effectively and that teachers are being supported to do their job. Most organizations also use local materials to help teachers develop relevant—and therefore often more effective—learning and teaching aids. In addition, they support teacher training and refresher programs to help teachers stay abreast of modern teaching methods.
Advocating at the government level is also an important way to promote quality education for girls. Effective collaboration with the local government to develop and strengthen the curriculum was found to be key in promoting quality learning. In addition, GFC partners in countries such as Ghana and Kenya have come together to form networks that are beginning to transition to movements—these movements will put pressure on governments to provide the needed resources to improve the quality of girls' education at all levels.
Retention in School
GFC has guided its partners to develop and implement programs to help retain girls in school. Most of these programs focus on providing a supportive educational environment to keep girls in school, while working to remove some of the barriers that keep girls out of school.
Nutrition and wellness services often form part of a supportive environment for girls. Some partners have established school feeding programs that have significantly increased retention. Other organizations pair supplemental feeding with healthcare support to help girls stay in school. At Centre for Development Initiatives in Ghana, partners work with community health workers to provide supplemental feeding along with health insurance registration and renewal through the National Health Insurance Scheme. Girls who are healthy and have enough to eat are better positioned to learn, and nutrition and wellness programs can also attract and retain girls who would not otherwise attend school.
Our assessment also noted the importance of girls' clubs and female mentors for keeping girls engaged in their education. Some of the organizations formed school clubs to fight gender-based violence and promote the protection and safety of girls, both at school and outside of school, and these clubs have also been effective in helping girls to stay in school. The use of female mentors and teachers has proved to be particularly effective in supporting girls to overcome negative peer pressure and stay in school, as well as in encouraging girls' groups and peer mentorship and leadership. Regular monitoring of attendance, consistent meetings with parents, vocational skills training, and workshops also improved retention.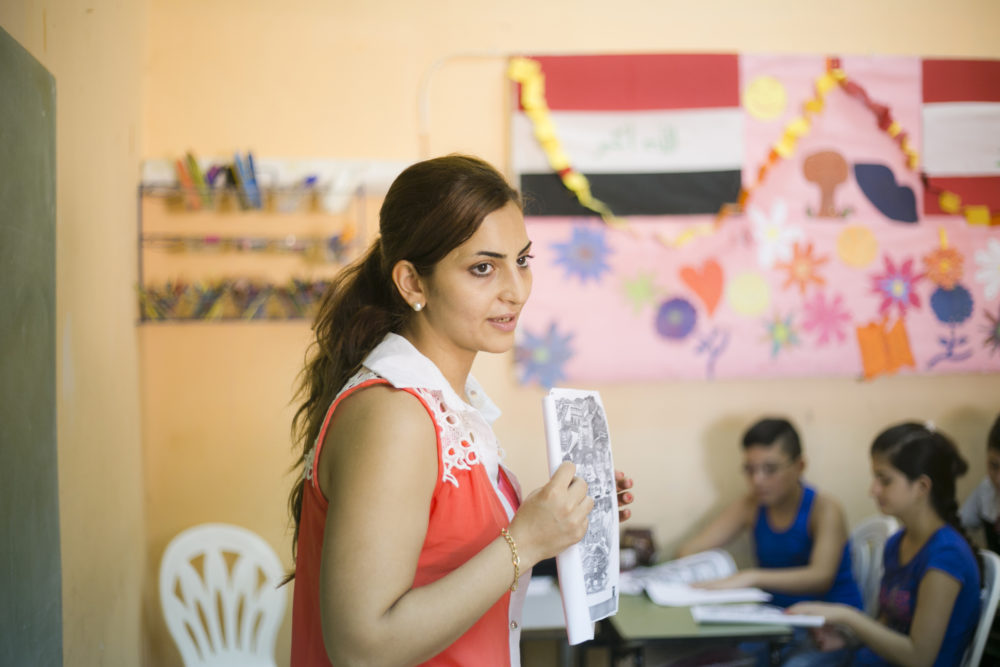 © Natalie Naccache/Getty Image Reportage/ Stars Foundation
English teacher Dounia Youssef teaching a class at the Insan school in Sid el Bouchrieh, Lebanon.
One barrier to retention can be the distance to school. Most schools are far from the girls' homes, and the route to and from school can pose a threat to girls' safety. Even when the route is safe, a long daily walk can negatively affect school retention. Some of GFC's grassroots partners have responded to this by providing boarding or hostel facilities for the girls; others have provided the girls with bicycles to ease travel to and from school. Another barrier to retention is financial. To ensure continued parental support, some organizations provide guidance to parents to start and sustain microbusinesses to help them support their children's continued education.
Two of the strongest barriers to school retention are societal expectations and traditions. In many cultures, adolescent girls are perceived more as women than as girls, and they are therefore subject to the societal norms and expectations that come with being a woman. These expectations and the related pressure from parents and peers contribute to the girls losing their interest in school and leaving school prematurely, often to get married or to fulfill traditional roles within their families. To shift these expectations, most of these organizations work with boys and men to teach them about the importance of girls' education and to help them understand their role in supporting girls not just to go to school but to stay in school and learn. Organizations conduct continuous community sensitization and solicit the active involvement of opinion leaders and leaders of faith-based organizations to help families support their girls to stay in school.
There are some cases where teachers and school staff, their perceptions blurred by damaging traditions, have been enforcing—instead of challenging—certain girl-unfriendly societal norms in school. This is done by unconsciously giving boys preferential treatment in class or in the school, assigning school chores to girls, and expressing gender-biased expectations for what girls and boys will do when they grow up. Again, sensitization efforts help to address this issue. Nyanza Initiative for Girls' Education and Empowerment in Kenya has been particularly effective with its outreach programs in this regard.
Transition to the Next Grade Level
A focus on transitioning to the next grade level is a major aspect of a quality girls' education program. GFC's grassroots partners have used a variety of culturally friendly methods to ensure that the girls they serve continue to progress in their education. Counseling and home visits from social workers, as well as legal protections and psychosocial services for girls who have experienced gender-based violence, child labor, trafficking, or sexual abuse were among the most cited approaches for encouraging girls' transition to secondary school. Many programs combat harmful traditional practices such as female genital cutting by involving chiefs and other community opinion leaders in advocacy campaigns. Facilitating female teachers as mentors was also connected to achieving higher rates of transition. In most cases, once the interest of the girls is sustained and most of the barriers that affect access to learning are removed, ensuring that girls transition to the next grade level is not so difficult to achieve.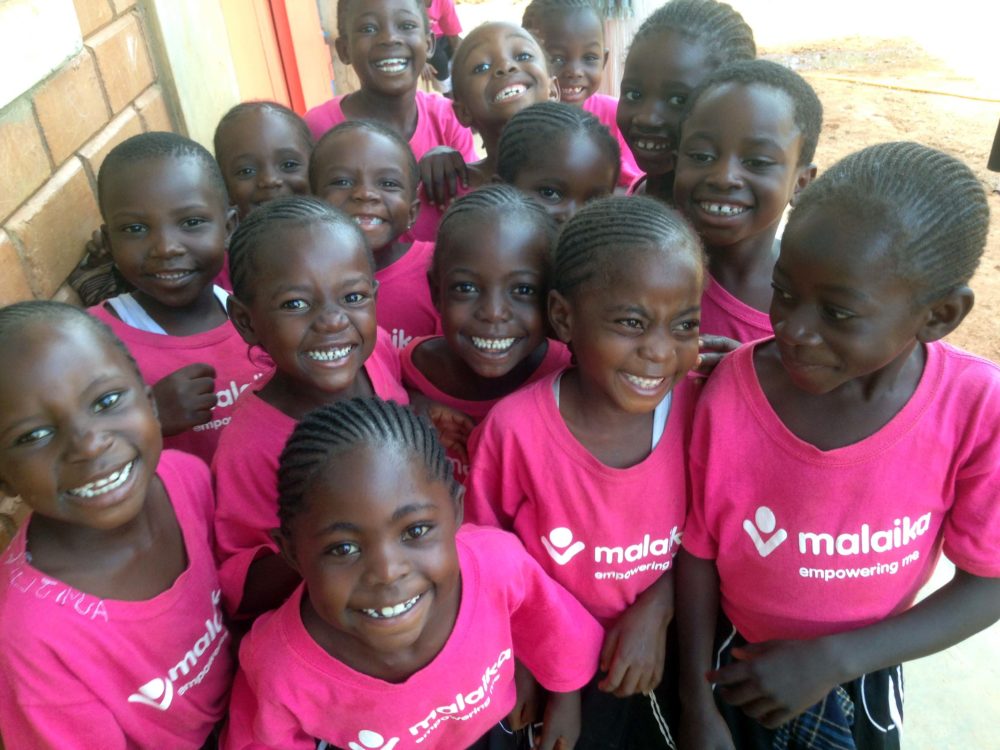 © The Global Fund for Children
You can't resist the smiles of the girls of the Georges Malaika Foundation school in Lubumbashi, Democratic Republic of the Congo.
Academic Performance
Most of the grassroots organizations in this assessment indicated that after-school learning programs or Saturday academies were used to provide support for those struggling and to help accelerate their academic performance. Many programs provide other types of extra tutoring or remedial classes outside of school to girls who need extra assistance. Most of the grassroots organizations measure learning using the academic reports of the girls, feedback from home and school visits, observations and monitoring by teachers, and regular assessment by after-school teachers and program officers.
Many grassroots partners have seen marked improvement in girls' academic performance and engagement with the use of gender-sensitive teacher trainings and interventions. Forums and workshops on gender-sensitive instruction help teachers adjust various learning styles, employ effective teaching strategies, and consider their own gender biases. Motivational talks, positive thinking psychology, and goal setting are some of the approaches that GFC's partners have used to encourage girls' voice and agency.
Grassroots partners have also integrated technology into their educational practices. Technological devices for improving reading, literacy, and numeracy skills, such as Worldreader's e-readers, were frequently used to encourage girls' academic performance. Incentivizing learning through civic responsibility, field trips, independent learning activities, and prizes has also proved effective.
Grassroots organizations have what it takes to remove the emotional, psychosocial, financial, and sociocultural barriers that keep girls from getting an education, and grassroots strategies allow for innovative, quality education for girls that is inclusive, holistic, and adaptable. GFC and its grassroots partners continue to work with strategic partners such as Echidna Giving and other stakeholders to contribute to the achievement of Sustainable Development Goal 4 and would like to invite you to join us to help more marginalized girls go to school, stay in school, learn, and become change makers in their communities.