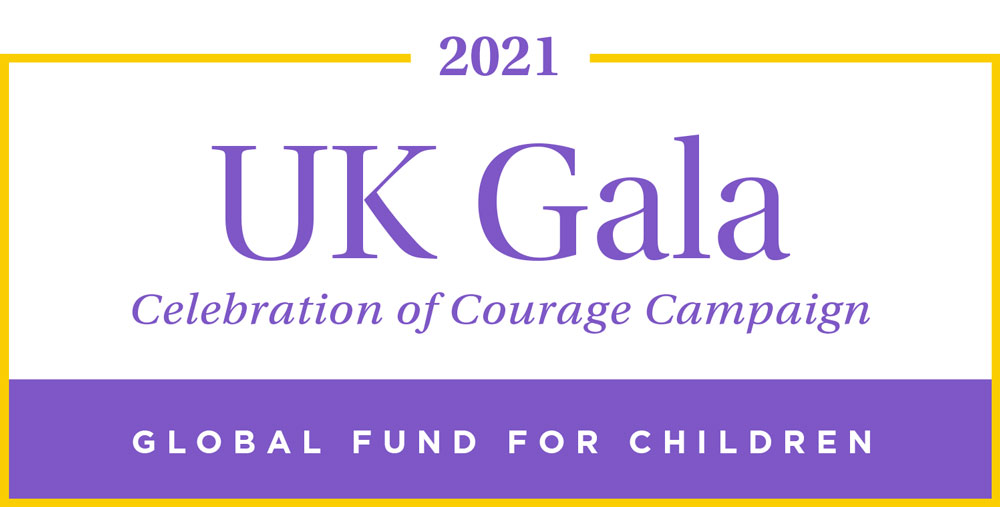 Date
Thursday, April 22, 2021
Time
8-9pm BST (London)
Location
Online
Gala Committee
Jennifer Altabef
Kevin Cavanaugh
Shweta Mehta
Greg Wallig
Chris Wolz
Thank you for making Global Fund for Children's 2021 United Kingdom Gala a success!
We're thrilled to have had more than 200 guests join us on April 22, 2021. Our work would not be possible without you.
Thanks to your contributions at the UK Gala, we met our £50,000 match challenge. With your gifts, your pledges, and our Board members' match, you helped us raise £447,548 for children and youth around the world.
The UK Gala kicks off our Celebration of Courage Campaign. This month of virtual events includes a US Gala on April 29; a global conversation on education during COVID-19, featuring young female leaders, on May 6; and the announcement of the 2021 Juliette Gimon Courage Award winners on May 20.
If you enjoyed our UK Gala, join us for more Celebration of Courage events to continue engaging with organizations and leaders building a better world for children everywhere. You can stay in touch by following us on Facebook, Twitter, and Instagram and by subscribing to our email updates. We'll keep you posted on innovative work and inspiring stories from our local partners around the world.
Thank you for supporting our gala and standing with children around the world. You can continue to champion our work as a monthly donor, keeping our life-changing, community-based programs for children and youth running every day.