Primeros Pasos brings free clinical care and health education to children who would otherwise go without.
Welcome to the Pulajunoj Valley! Located in the state of Quetzaltenango, in the Western Highlands of Guatemala, the valley is home to our partner Primeros Pasos, which serves all 10 communities in the area. Some are located fairly close to the city of Quetzaltenango, while others are quite remote.
Primeros Pasos' Healthy Schools program brings a mobile clinic and health education workshops to children who would otherwise have no access to such services.
Through the efforts of its dedicated team of staff and volunteers, and through partnerships with the local government and the Peace Corps, the organization serves over 4,000 children each year!
In addition to the Healthy Schools program, which Primeros Pasos implements in all 10 elementary schools in the valley, the organization also provides health services to the local hogares comunitarios—community-run daycare centers that serve children aged 2 to 6.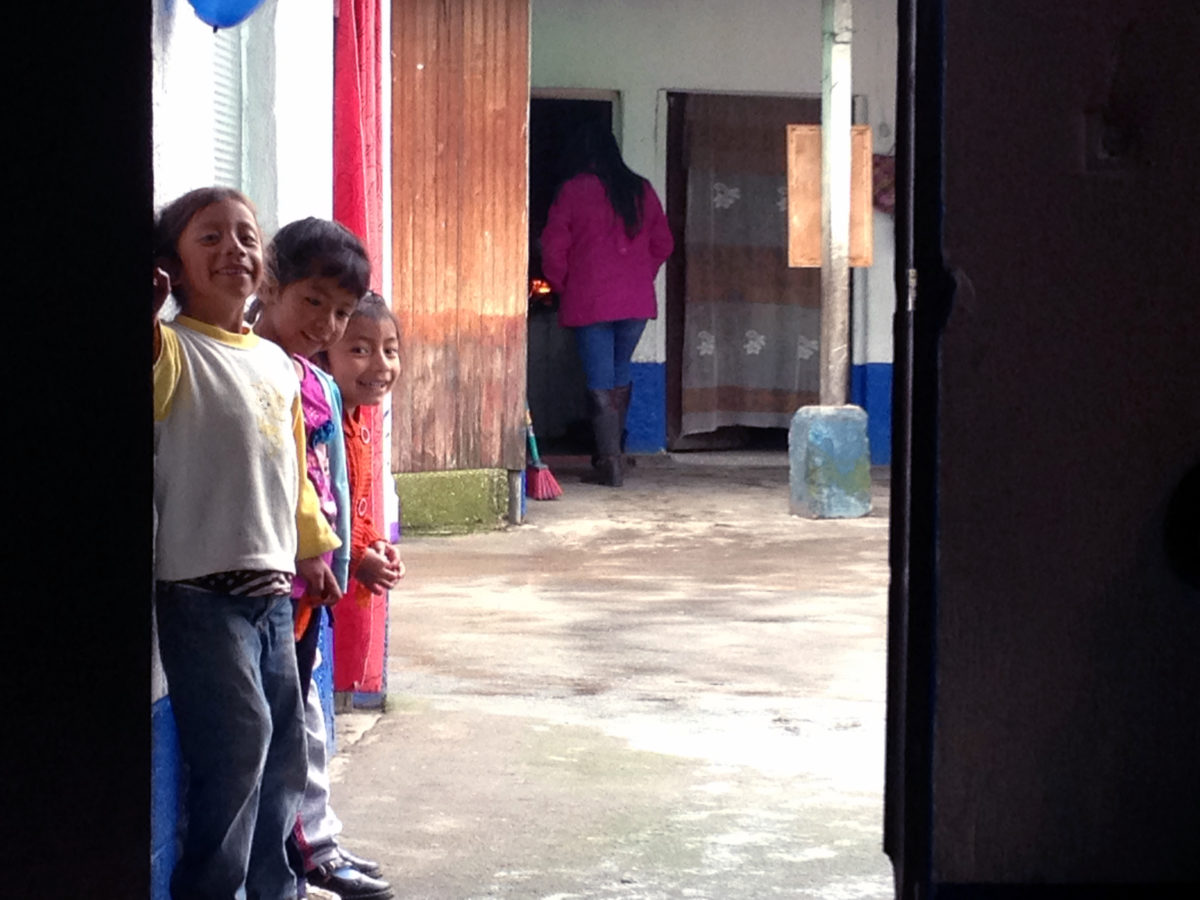 On this tour, we'll be visiting a local hogar—one that, unfortunately, is struggling due to a lack of government funding. The first step is to load up the pickup truck with supplies from the mobile clinic: a stadiometer (height-measuring device), a scale, costumes for a hygiene-themed play (more on that to come!), and of course some healthy snacks for the kids. Now we're ready to set off for the community of Llanos del Pinal.
The hogar's children and their parents were convened specially on this day for Primeros Pasos' visit. The first workshop in the series that Primeros Pasos provides to all elementary schools and daycare centers focuses on involving parents in the health of their children.
The main takeaway from this meeting is that parents and schools have a shared responsibility for children's health, and that the learning and habits that kids pick up at home can have as much of an impact on their health as what they absorb in school.
During this workshop, Primeros Pasos educators also explain the health services they will be offering to the children. Because intestinal parasitic infections are extremely common, the first step is to test the children so that a proper diagnosis can be made and treatment prescribed.
An important part of encouraging parents to be advocates for their children's health is helping them to overcome the "pena" (embarrassment) of talking about bodily functions. Primeros Pasos educators do this by addressing topics in direct, frank language and incorporating humor and storytelling.
For this workshop, the educators perform a short play about a boy who, after playing outside, didn't wash his hands before eating and suffered gastrointestinal distress as a result. Frequent hand washing was presented as a practical step that parents can take to help children stay healthy and prevent parasitic infections.
Meet the villains of the story: giardia and an intestinal worm. The characters gleefully describe in first person the sort of harm they enjoy inflicting on their victims: stomachaches, bloating, gas, and diarrhea!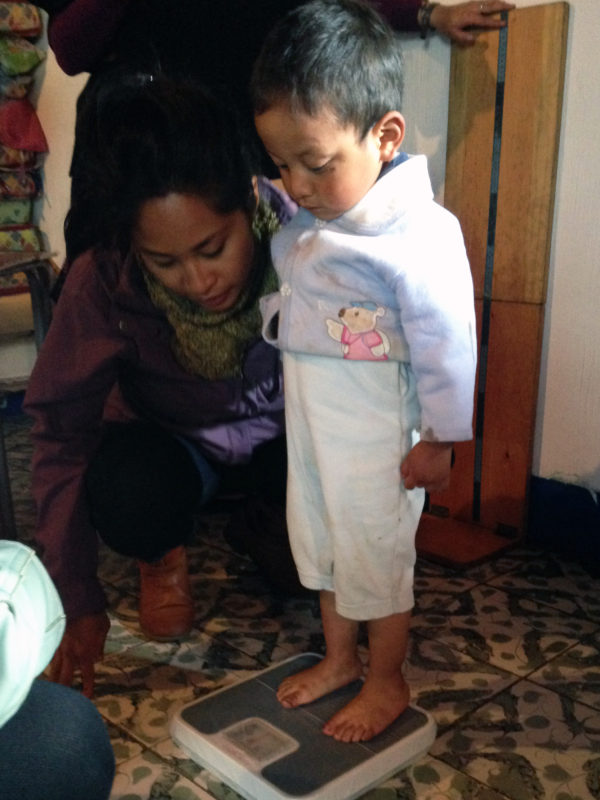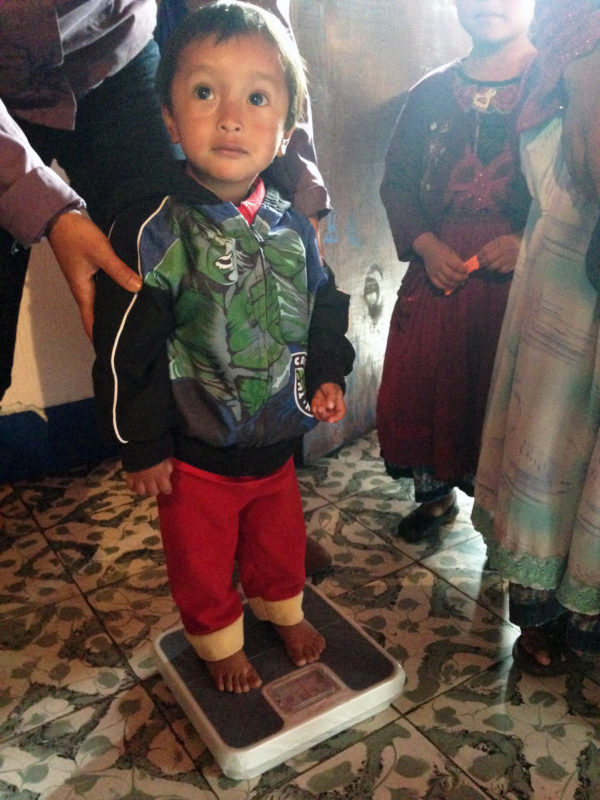 Next, each child is weighed and measured. This information is important for assessing whether the child is meeting growth benchmarks, and also for making sure that the dosage is correct for the medicines that Primeros Pasos doctors will prescribe to treat any conditions that are present.
Many children that Primeros Pasos serves are underweight and small for their age, due to malnutrition. Malnutrition is caused by factors related to poor diet, and it can be exacerbated by recurrent parasitic infections that suppress appetite and prevent the proper absorption of nutrients. Parasitic infections, in turn, are typically caused by poor hygiene and consuming contaminated food or water. In cases of extreme or chronic malnutrition, Primeros Pasos offers nutritional recuperation services at its clinic.
At the end of the workshop, the parents are informed about the next steps in the program, and a date is set for Primeros Pasos staff to return to the hogar to collect the stool samples that would be used to test the children for parasites.
Finally, the children and parents enjoy a nutritious snack consisting of "atol," a traditional corn-based drink, served hot, and muffins with a peanut-butter filling for added protein. And of course they put into practice the preventive habits that were emphasized in the workshop by washing their hands first!
Thank you, Primeros Pasos staff and volunteers, and the kids and parents of Llanos del Pinal, for a great visit! To learn more about Primeros Pasos and the Healthy Schools program, visit http://www.primerospasos.org.
All photos © Global Fund for Children