New report featuring Global Fund for Children highlights the unparalleled value of flexible funding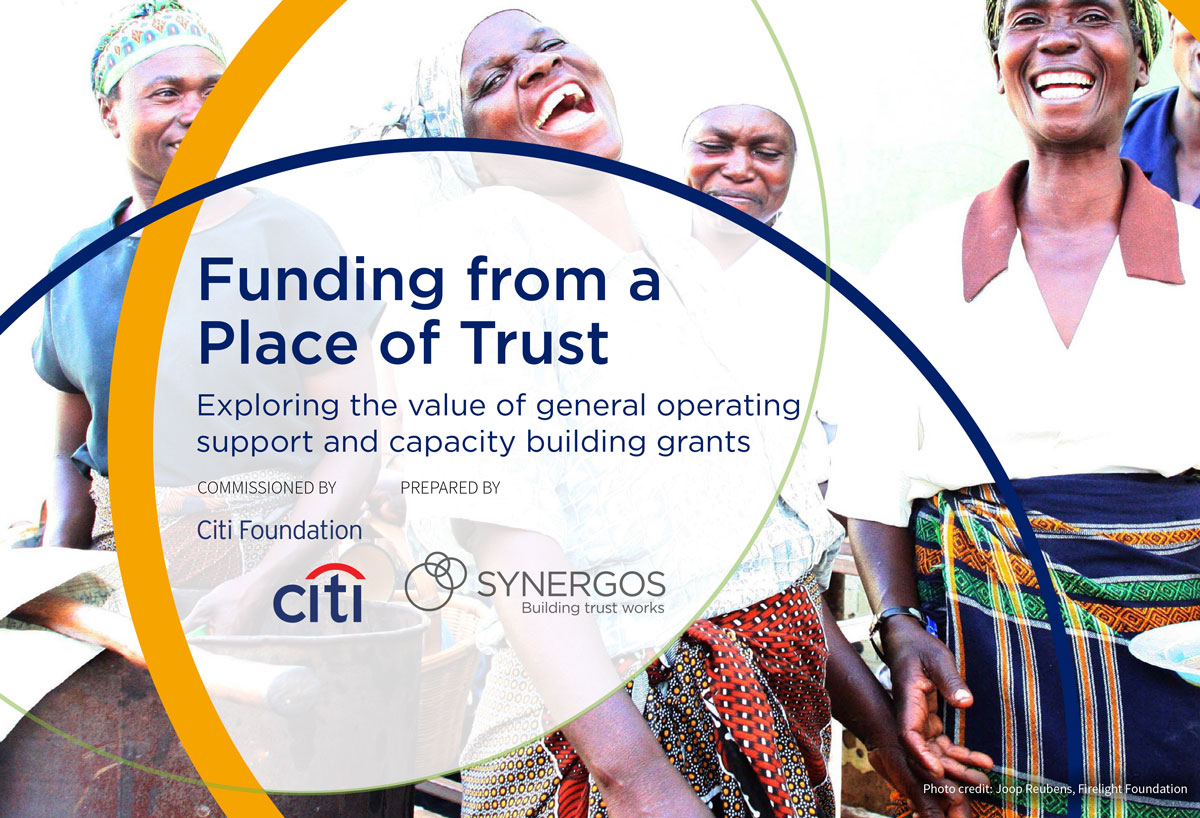 Funding from a Place of Trust, a just-released report commissioned by the Citi Foundation and produced by Synergos, explores the critical importance of flexible funding and capacity development in improving the impact of nonprofit organizations serving communities in need.
Drawn from secondary research and interviews with more than 50 funders, NGO professionals, and representatives of intermediary organizations, Funding from a Place of Trust offers fresh insights for funders getting started with general operating support and capacity development funding.
It also profiles Global Fund for Children (GFC) and three other organizations that serve as models of how to allocate, track, and assess the impact of such funding – and how to build the essential "trust capital" in relationships that forms the foundation for success.
"Our journey with partners is relationship-based," said Corey Oser, Vice President of Programs at GFC. "We find organizations by spending time in country, getting to know their work, and over time develop close relationships between program officers and partners."
Although flexible funding is key to sustaining organizations over time, GFC's local partners are often unaccustomed to receiving it. "Many of our grantees are used to project funding, so they think that is what we need or want," said Joseph Bednarek, Director of Global Grantmaking at GFC. "But we try to make it clear they don't have to use our funding for a specific purpose."
The report also features the experiences of two GFC partners, Arpan in India and Asociación Pop No'j in Guatemala, to further demonstrate the power of GFC's model.
"GFC is a strategic funder for us – it's a partnership we value not only from the funding perspective but because GFC helps us think in terms of our growth," said Sharalene Moonjely, Director of Public Engagement at Arpan. "They play the role of an enabler, not just a funder."
The report's key findings include:
Long-term general operating support coupled with capacity development funding may be a gold standard. This enables nonprofits to avoid a tradeoff between investing in capacity and in programmatic growth, helping ensure that new capacity acquired is sustained. Within our current climate, this is more critical than ever to support grantees through this tumultuous time.
Funders should invest in general operating support and capacity development early and for the long haul. It takes time to strengthen an organization and to achieve results. Grant terms of five to seven years should become the new standard.
General operating support is a form of "trust capital." A trust-based relationship is established when funders provide flexible funding, re-balancing power dynamics between donor and grantee and creating an effective two-way communication in which both parties learn and adjust.