How is COVID-19 impacting children and youth worldwide?
Join the online conversation with Global Fund for Children's Youth Leadership Council and four community leaders to find out firsthand.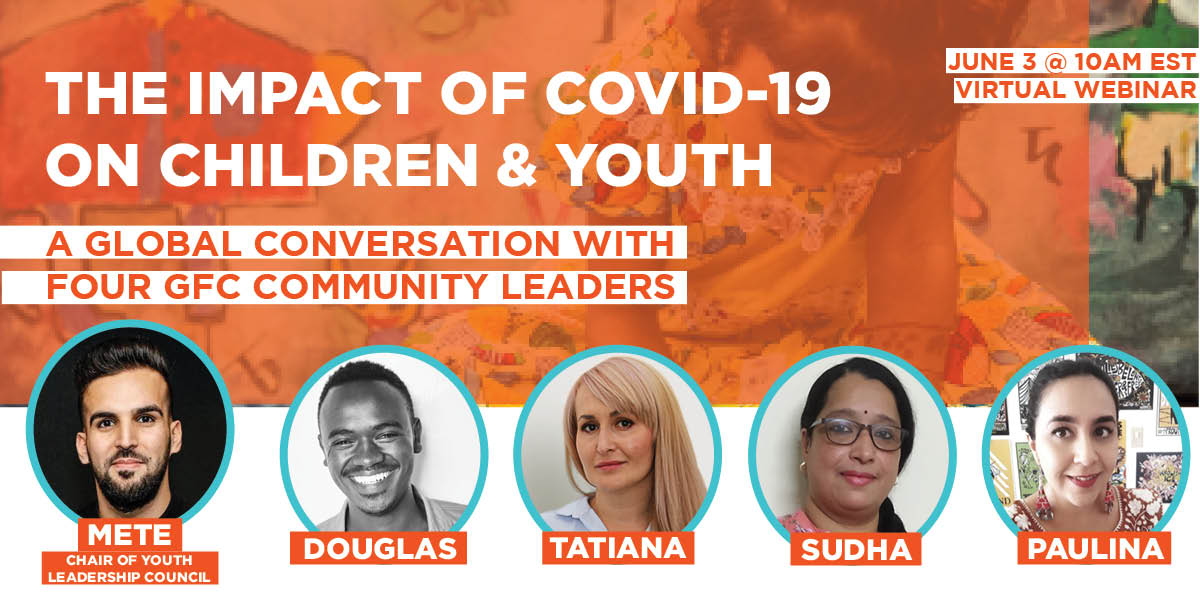 Date: Wednesday, June 3, 2020
Time: 10:00 AM EDT
Location: Accessible worldwide via Zoom (Registration required)
On Wednesday, June 3, GFC's Youth Leadership Council invites you to hear directly from four local leaders in Kenya, India, Mexico, and Moldova about the coronavirus pandemic in their communities. Together, we will gain a firsthand look into how the global pandemic is impacting children and youth – and learn how community-led organizations are mobilizing to respond.
Meet the panelists
Douglas Mwangi is Founder and Director of Oasis Mathare in Kenya. Oasis Mathare transforms the lives of young people in Mathare's slums by providing access to quality education and skills training, including social entrepreneurship and digital literacy.
Paulina Olvera Cáñez is the Founder and Executive Director of Espacio Migrante on the US-Mexico border. A binational community organization based in Tijuana, Espacio Migrante works with migrant children and communities to provide access to education, human rights, and comprehensive care.
Tatiana Costev is Co-Executive Director of Institute for Rural Initiatives in Moldova. IRI promotes socio-economic initiatives in Moldova's rural communities, with a focus on youth from disadvantaged and marginalized populations.
Sudha Upadhyayula is Head of Operations at My Choices Foundation in India. My Choices Foundation aims to give women and girls the choice to live lives free from violence, abuse, and exploitation by ending sex trafficking and stopping domestic violence.
Mete Coban, MBE, is Chair of Global Fund for Children's Youth Leadership Council, Councillor for Stoke Newington, and Chief Executive at My Life My Say. He is the webinar's moderator.